Plaques and Signs are unique gifts, and I have made these for houses, rooms and rabbit-hutches! Children's name plates are particularly nice gifts, as are birth plaques with the child's name & birth details.
Note that I will now ONLY undertake outdoor signs if the chosen design is very dark and bold, as (despite UV-protective varnish) fading is too much of a problem otherwise. I don't recommend it...
You can see more recent items
here
on Flickr.
---
Click on an image for technique details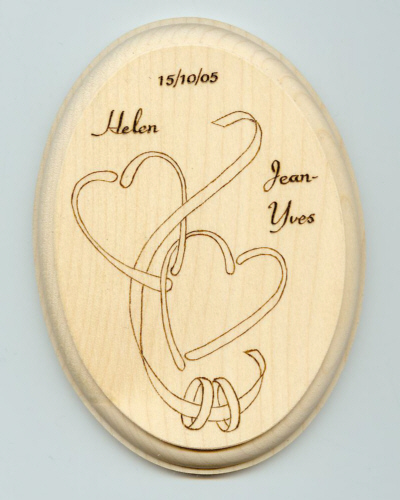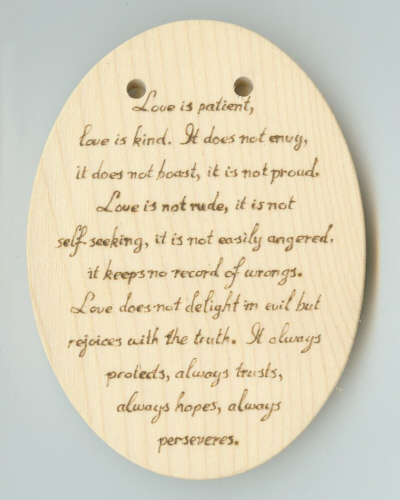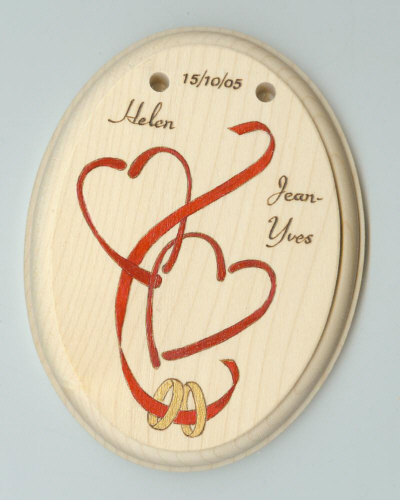 This small hanging plaque was commissioned as a wedding favour, for Tracey to give to her sister.
Tracey says : "It is fab! It really is lovely. Thank you for all your work on this for me. It truly is unique and you managed to interpret my 'sketchy' ideas perfectly. I couldn't have imagined that it would look any better than it does. I shall keep your site in my favourites for future use - I am sure that I will be back to 'use you' again in the future."

---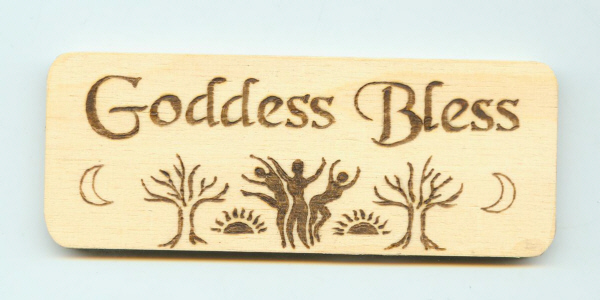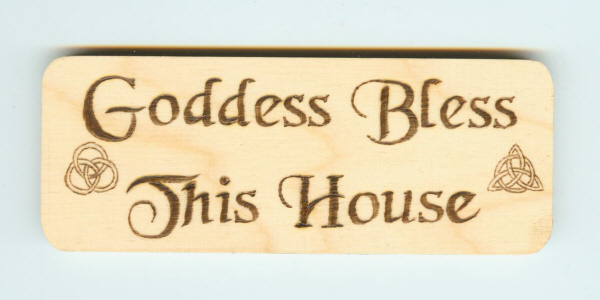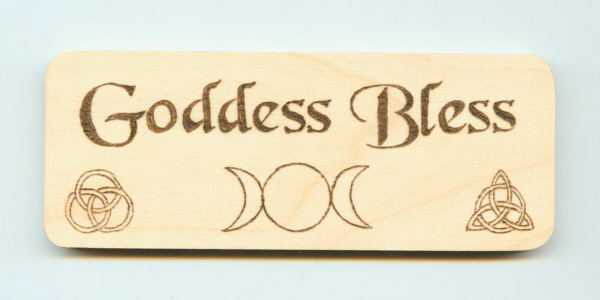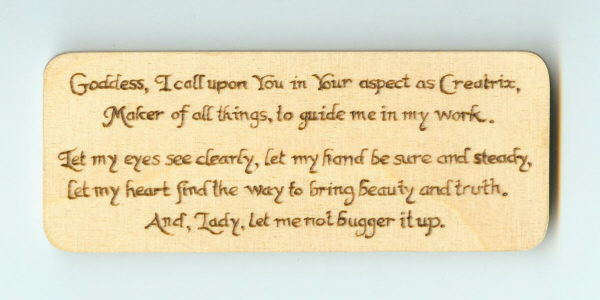 These plaques were made for sale at the Halloween Festival.

---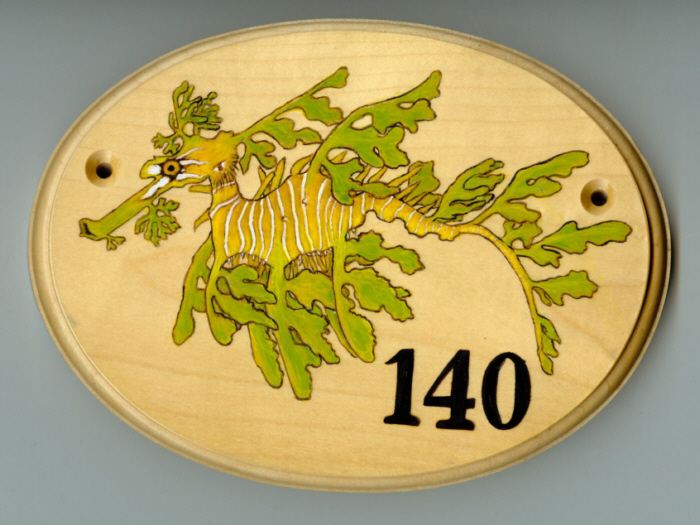 These plaques were originally made with pencil colouring, but sadly they faded in the sun (Note - I no longer do this kind of work for use outdoors), and were returned to me for refurbishment. I have reworked them here in acrylic paints, which I hope will be more UV_resistant.

---


This child's nameplate was commissioned for a birthday gift for a boy named Rowan, specially cut from Rowanwood.

---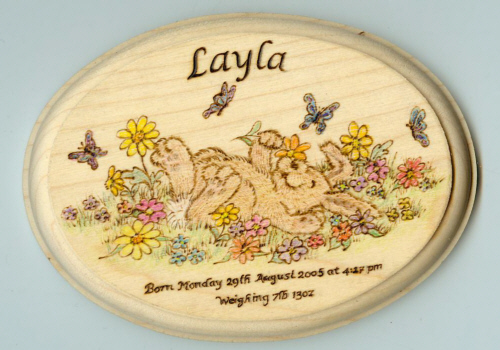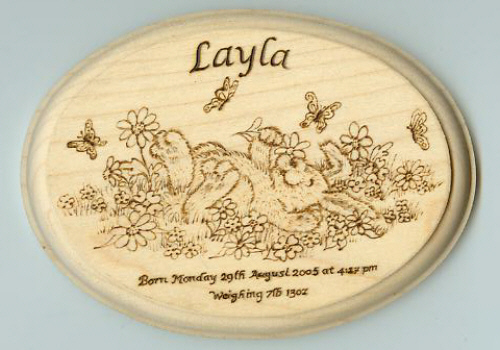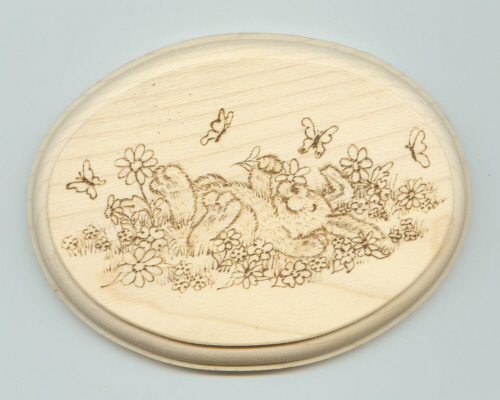 This small baby plaque, show here before and after colouring, was commissioned as a christening gift.
Emma says : ""

---


This plaque was made as a surprise gift for AutumnLady, the founder of Dragonswood magazine, to thank her for the article she ran about me and my work.

---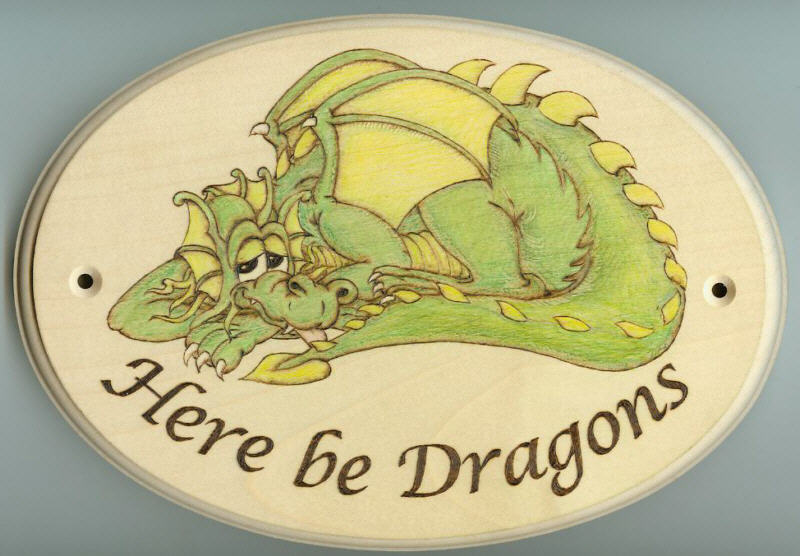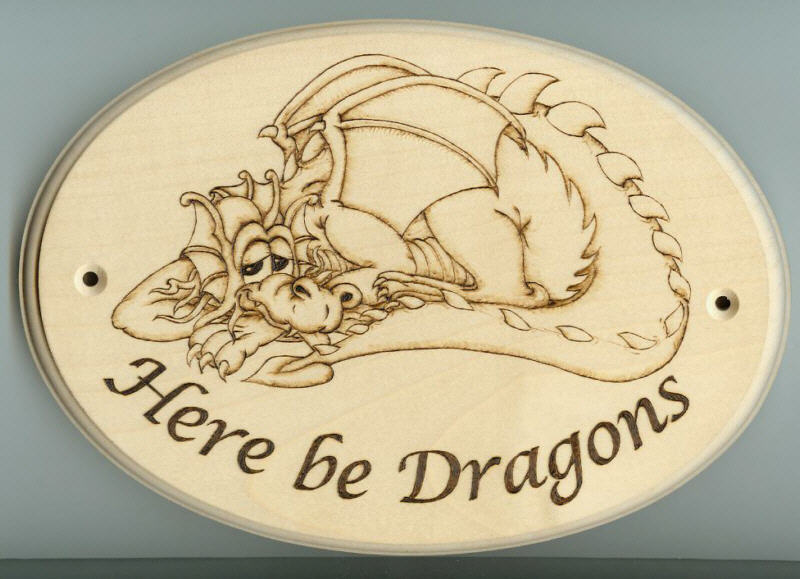 This house sign was commissioned as a Yule gift.

---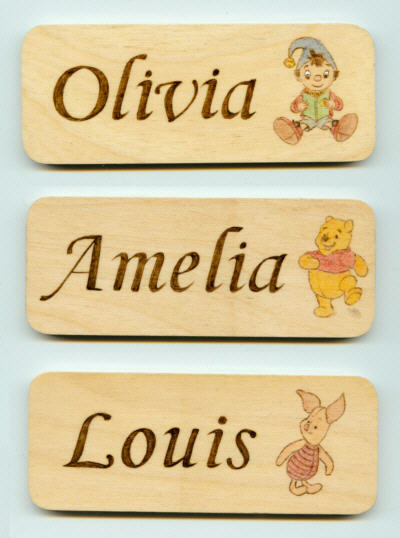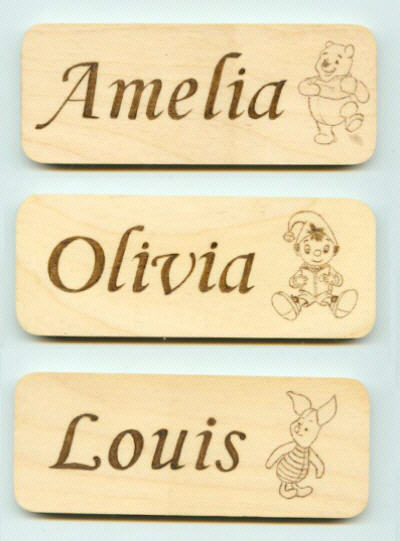 These children's nameplates were commissioned as Christmas presents.

---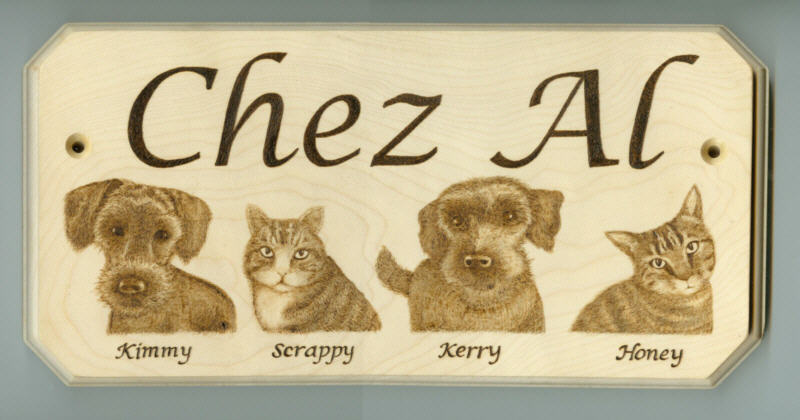 This sign was commissioned to commemorate the recipient's move to a new house. The pictures of his pets were taken from the photographs below, taken on a mobile phone.


---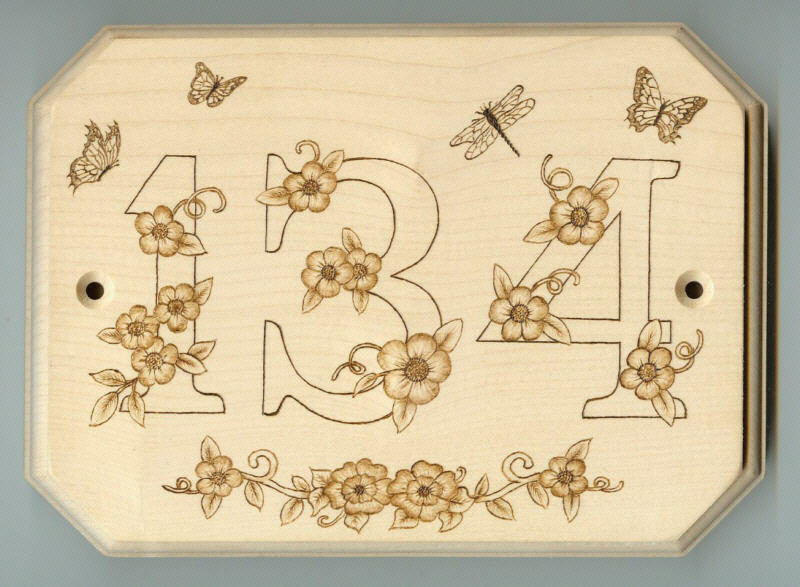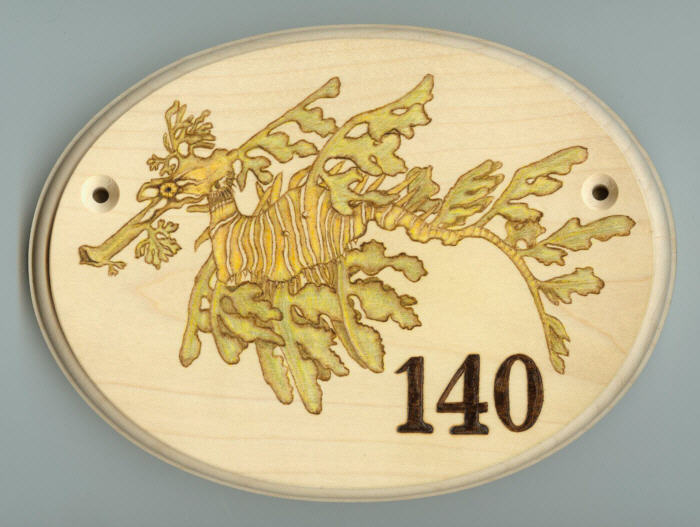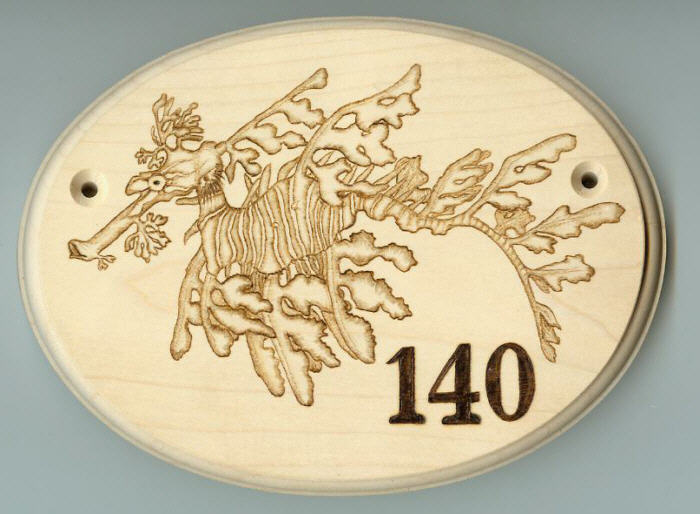 These house signs were commissioned as Christmas gifts, coloured with artist's pencils to the commissioner's requirements. Lisa says : "wow! wow and wow!!! You've done me proud. I'm so excited at giving my presents this Christmas! Tracey, that's fantastic. I must say, this is the most organised I've ever been for Christmas!!!! and it's great!!"

---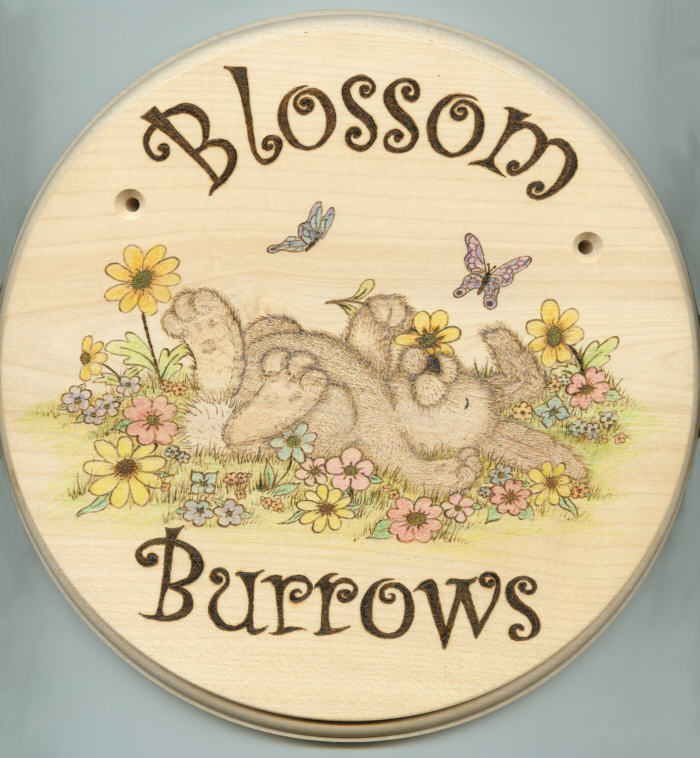 Another commissioned rabbit-hutch nameplate - this time 7" round.

---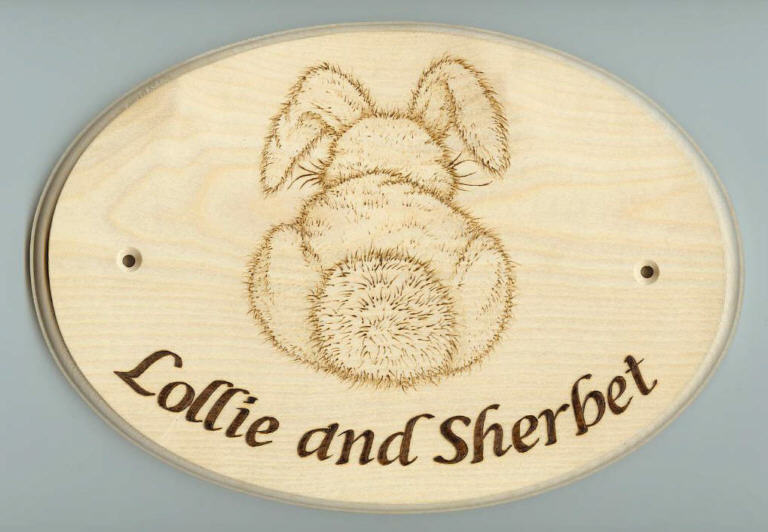 This 7" x 10" plaque was done as a commissioned nameplate for a large rabbit hutch, containing a family of lop-eared bunnies. The original pair of sister bunnies, Lollie and Sherbet, turned out not to be sisters after all, and now have a happy family of cute little babies...
Bill's help was invaluable when drilling this - his expertise with a pillar-drill got the holes really neat and both countersunk exactly the same.
Claire says : "I recieved my plaque yesterday, and I just wanted to let you know that I'm really thrilled with it. You are very talented, and the plaque is going to look fantastic on Lollie and Sherbet's house. You can really see the time and love that's gone into making it - Thanks again for all your hard work, it really paid off!"

---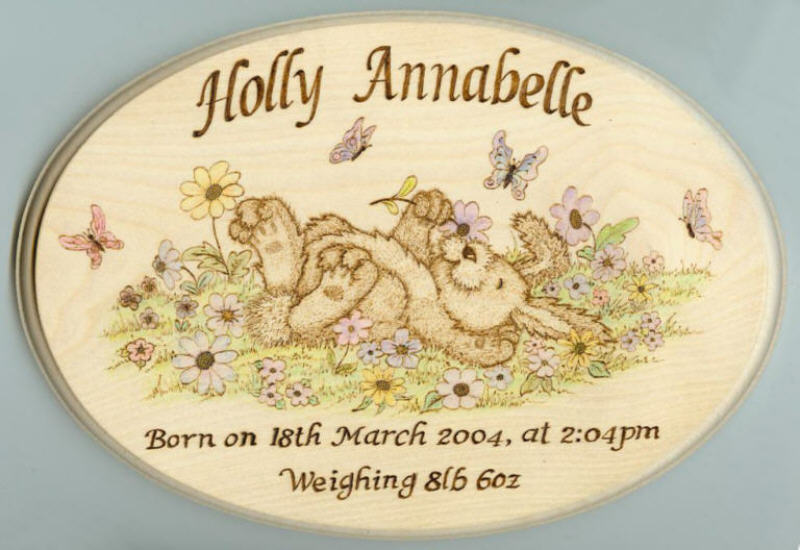 You see this baby's nameplate, also 7" x 10", in various stages of construction - shown complete and coloured with artist's pencils, shown detailed but uncoloured, and shown with just the outlines. These plaques come from Dalescraft, and work beautifully as nameplates.
The design was made up in PowerPoint, which is really useful for curving the name around the shape, and for fitting the design in neatly. As you can save as a JPG, this can then be flipped and used as a rub-down template.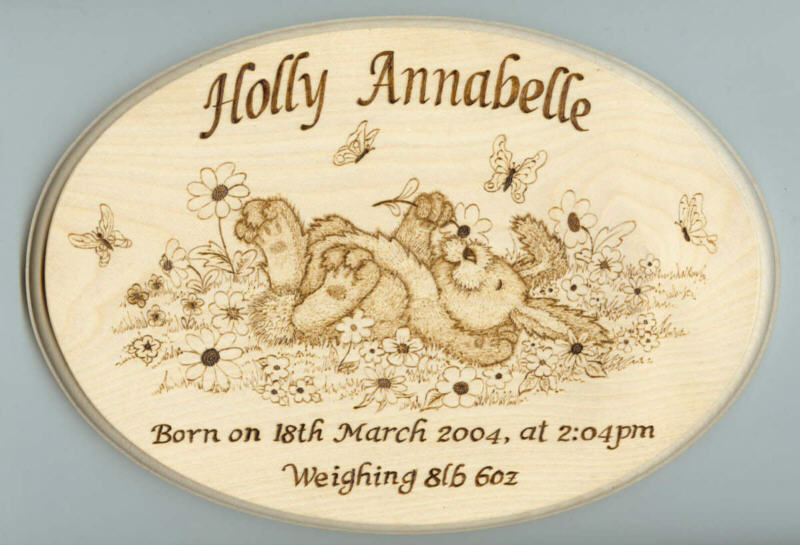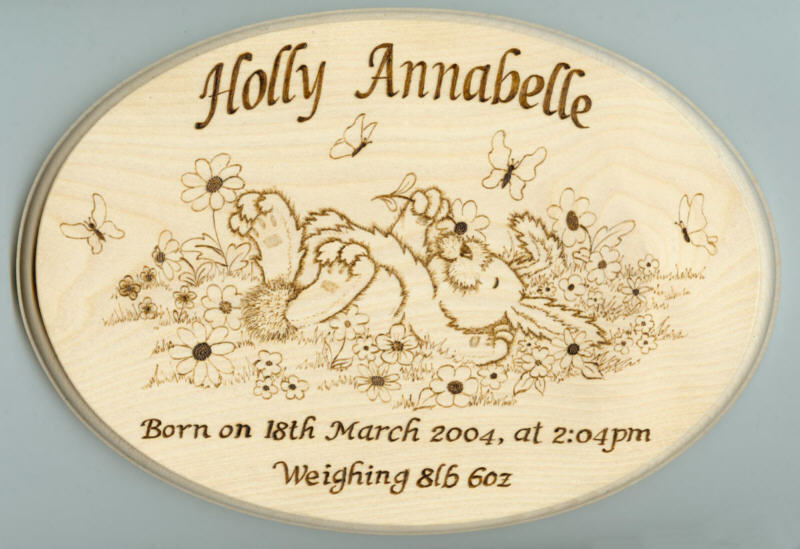 ---


This door plate, about 3" x 8½", was made as a commission for a friend's grand-daughter, named Abbie. You can see it here before and after it was coloured with artist's pencils, in clear pinks to the buyer's requirements.



---



This door plate, about 3" x 8", was made as a commission from a friend, for her son, Adem. She was very pleased with the result. Door plates for children are quite popular, and can be made in all shapes and sizes.

---
If you would like to commission something from me, please
contact me
with details of your requirements, or take a look at the
Sales page
for some examples.