I've worked on all sorts of oddments, for various people or for my own amusement. Here are some examples of these items, including my first attempts at pyrography!
You can see more recent items
here
on Flickr.
---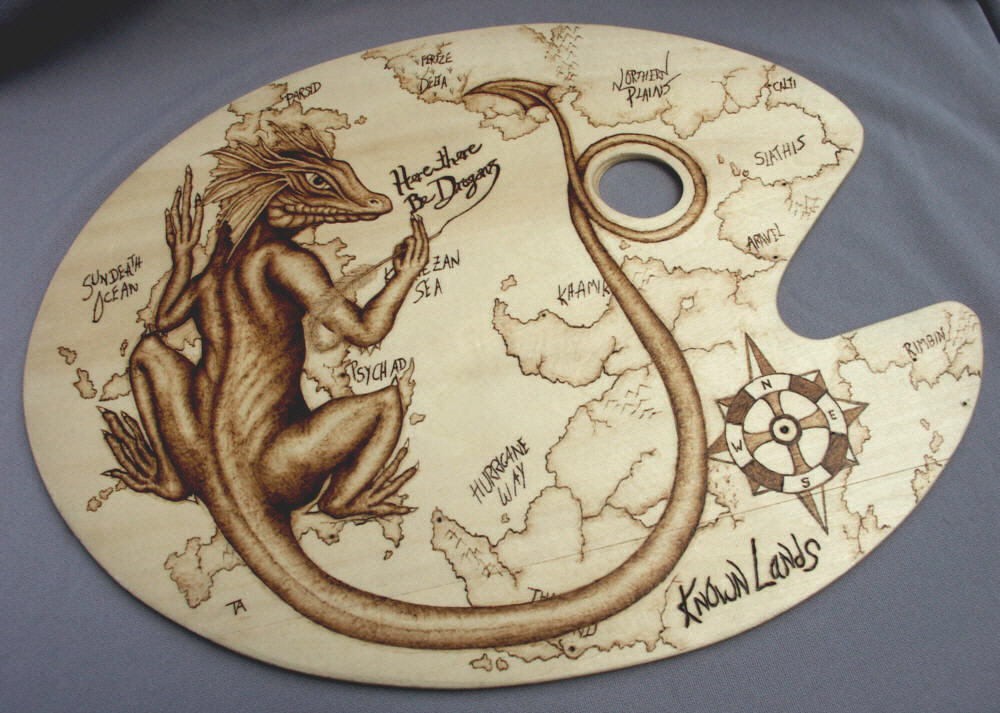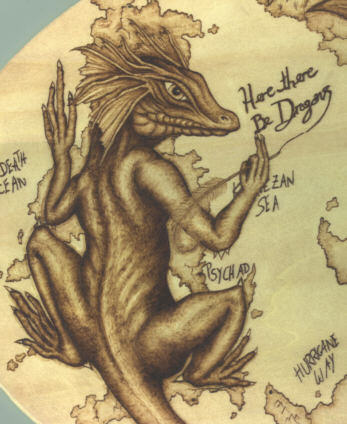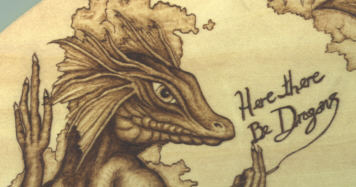 The largest, and by far the most time-consuming item I have so far completed is this dragon on a map, done on a large artists' palette. I really like this one, and it sits by my desk. He is NOT for sale.

---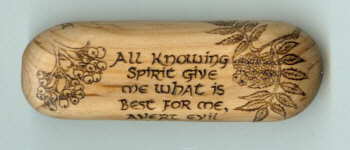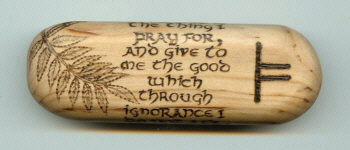 This child's nameplate and luckpiece were commissioned for a birthday gift for a boy named Rowan. They were specially cut and shaped from Rowanwood. The symbols on the luckpiece are all related to the Rowan tree.

---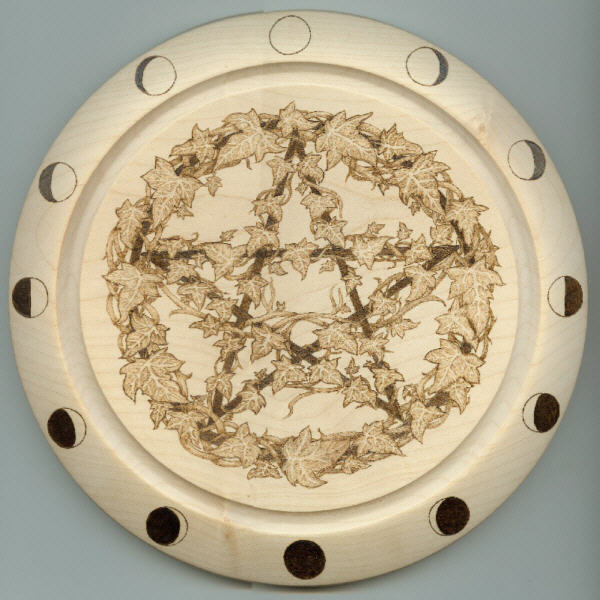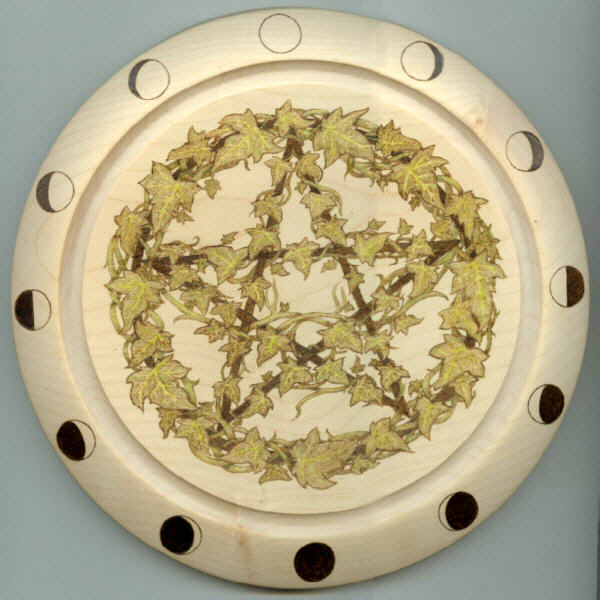 This magical altar was made on commission, showing a pentacle wreathed in ivy leaves, surrounded by the phases of the moon. It is 10" across, (and hence too large to scan easily!) made of sycamore. It is finished in varnish, to make it easy to clean.
It's shown here with just the pyrography, and with the coloured finish, done in artist's pencils.
Nicky says : "Oooooo it looks fab! I love it!"

---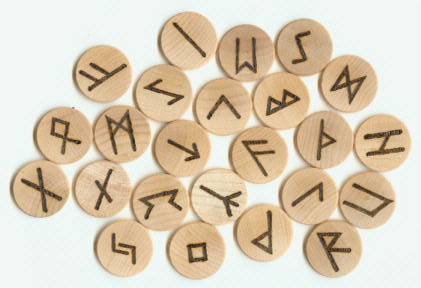 This set of Futhark runes was commissioned for divination, and comes complete with a natural leather drawstring bag. They were finished with natural beeswax polish. Runes can be made with a symbol on the reverse of every rune, if desired.

---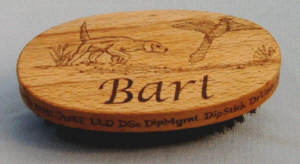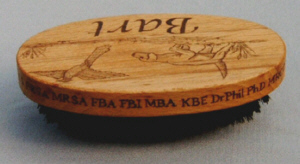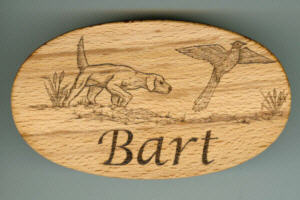 This gent's hairbrush was made as a leaving gift for one of my colleagues, a legendary huntin', shootin', fishin' kind of chap with many qualifications - though not quite as many as on the brush!

---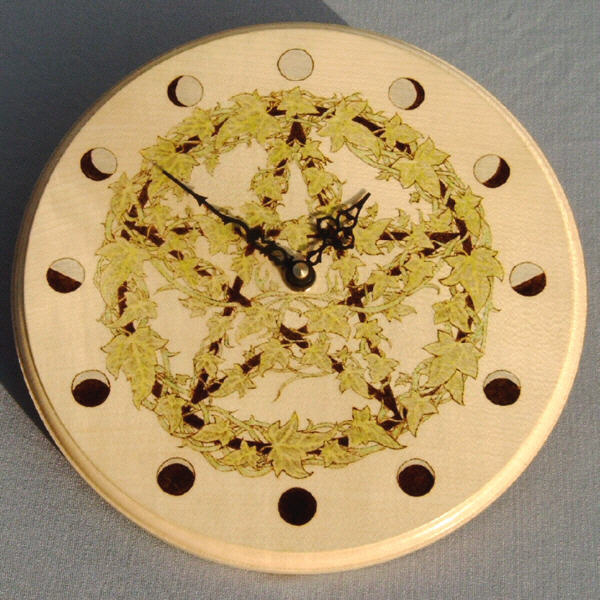 This unique clock shows a pentacle wreathed in ivy leaves, with the phases of the moon marking the hours. It is made of sycamore, 9" across, with a quartz clock movement.
Rain says : "The clock and key ring arrived today.. what can i say.. WOW. They are wonderful, thank you so very much. We love them."

---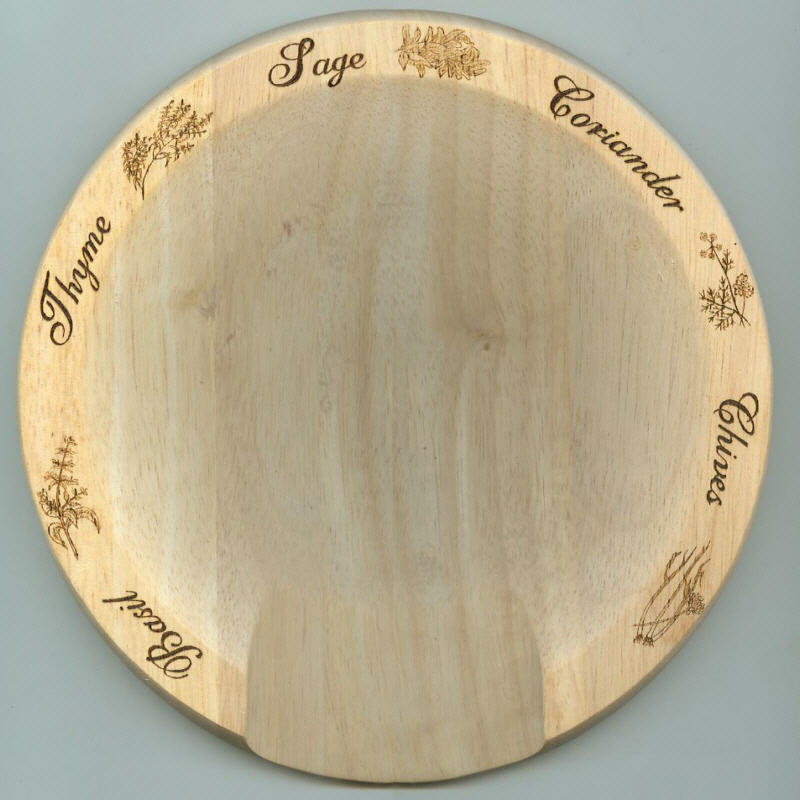 This herb board was made on commission as a gift. It is made of rubberwood, and comes complete with a mezzaluna knife. .

---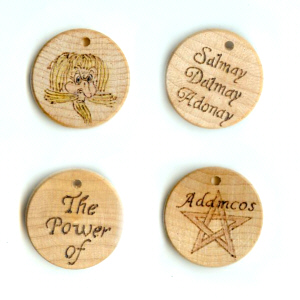 These 1" pendants were made for the Catweazle Fan Club, and were strung on leather thongs.
Carol says : "They all look lovely, it must be difficult to do those tiny faces. You have gone to so much trouble for something that by your standards is quite a little job and so I am really happy with what you have done for me. If only everyone was as consciencious and accommodating as you!"

---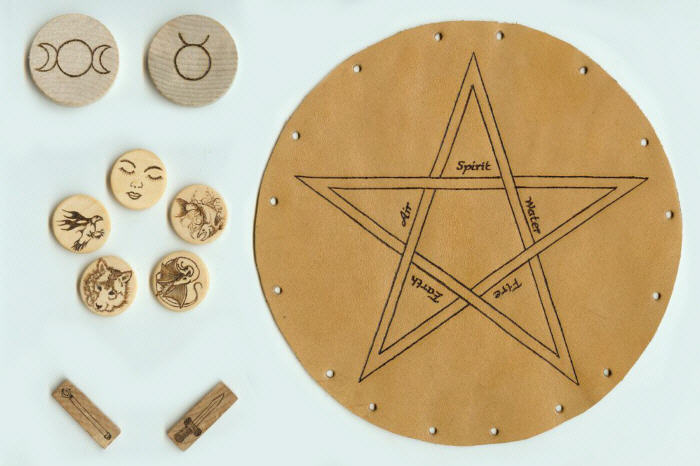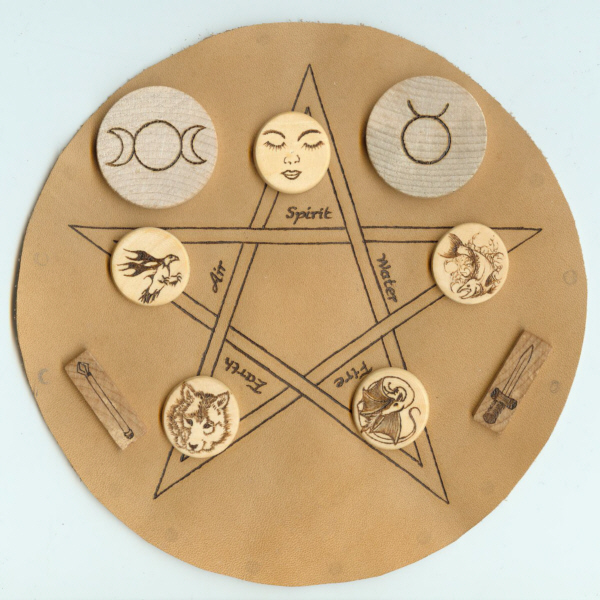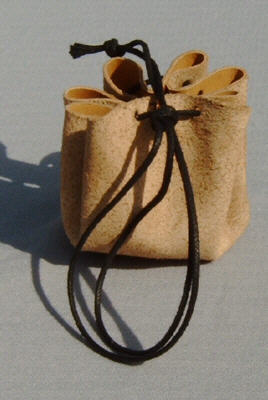 This "Pocket Altar" is the first of it's kind - a prototype of a new idea. It is already sold, to AutumnMoon.
Autumnmoon says : "It is so beautiful, when we go away I will now be able to take it with me and have an altar no matter where I am. A truly portable altar - what a great idea you had."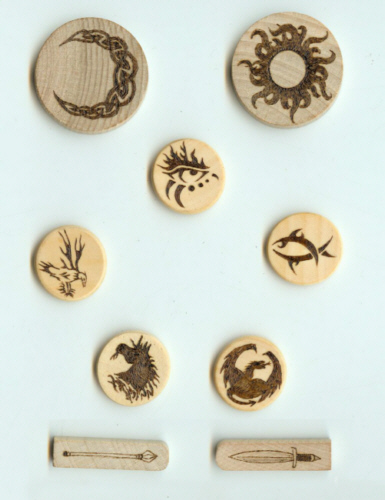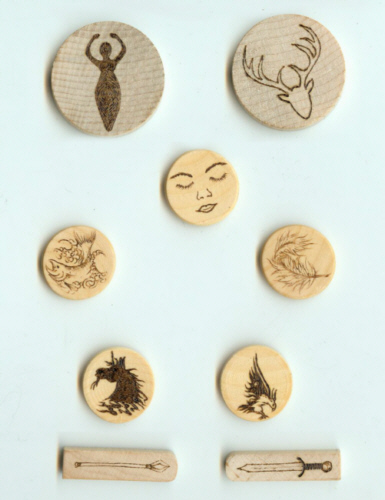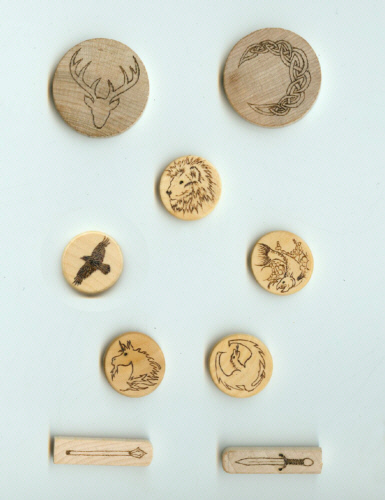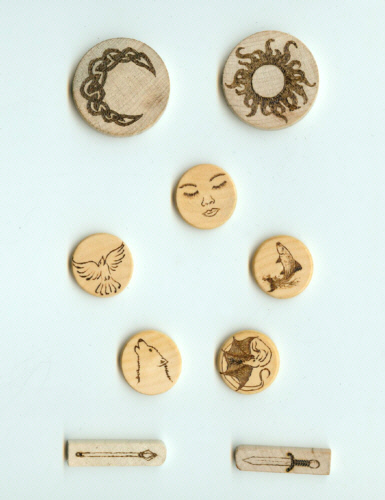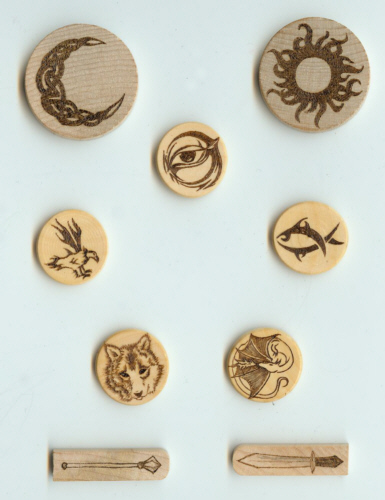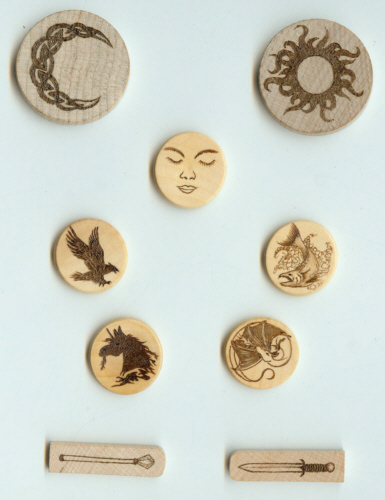 The "Pocket Altar" can be made with many varieties of tokens for the Lord and Lady, the Elements and the magical tools, depending on what suits the user. Here are some examples, commissioned by members of Dragonswood and The Forest.

---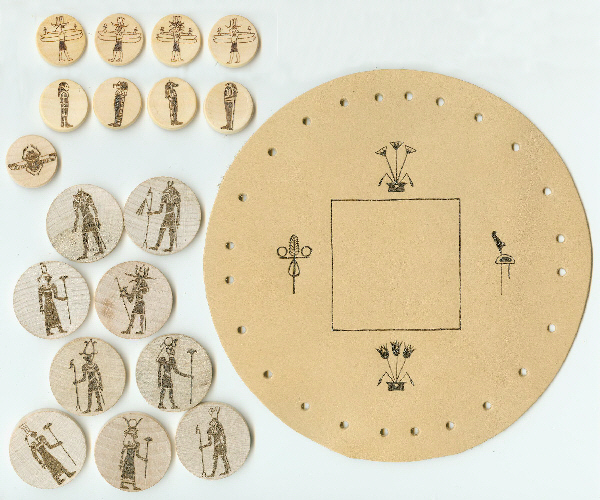 This Pocket Temple was made for a follower of the ancient Egyptian traditions, with a set of tokens representing the ancient Egyptian gods and Goddesses, the four Winds, and a special scarab symbol for Quintessence.
FireMage says : "all I can say is wow! That's amazing work! They are so detailed!! I knew you were good from the examples of your work on your site but I never realised just how good! I wouldn't change a thing! Thanks! Rather stunned by your skill,"

---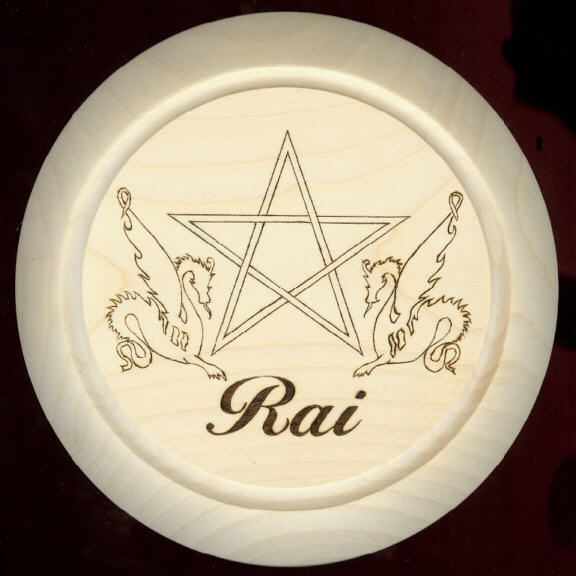 This magical altarplate was made on commission, with dragons flanking a central pentacle. It is unfinished, in natural sycamore.
Willow says : "The plate and keyring are just amazing, you have done exactly what I wanted - thank you ever so much. You should be very proud of your work as you're very talented. I will be telling everyone I know about your work as it's amazing! Thanks again, take care."

---


I made half a dozen of these small turned eggs, about 1½" tall, on commission. Their purchaser gave them away as lasting Easter gifts. I did the same myself!




---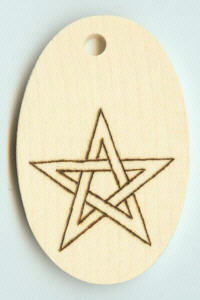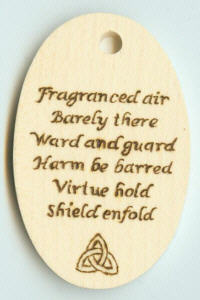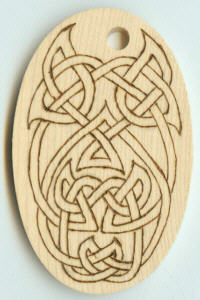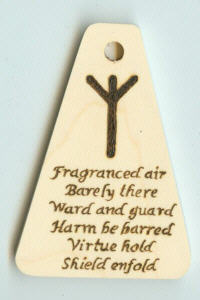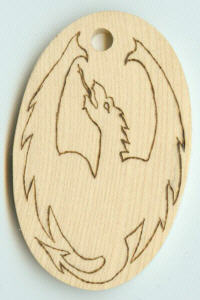 These magical aromatherapy hangers are intended to fragrance the air with aromatherapy oils. To use one, lay the hanger flat, carefully drip the oil(s) of your choice onto it, and wait a few moments for the oil to be absorbed into the wood before hanging it up, and not hang it against anything that could be damaged by the oil. The oils then make a nice effect as they diffuse outward, into the wood.

---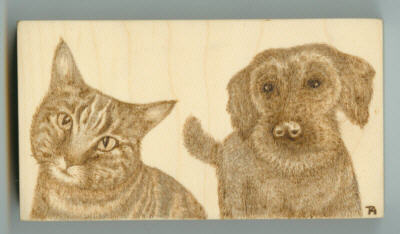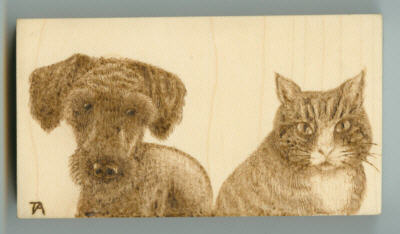 A pen block, decorated on both sides with pet portraits.
---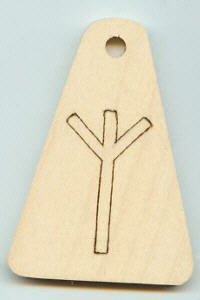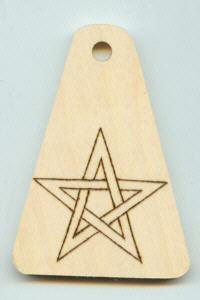 These aromatherapy hangers were made for Wicca UK, a wiccan discussions group. They have a protection charm written around the edge.

---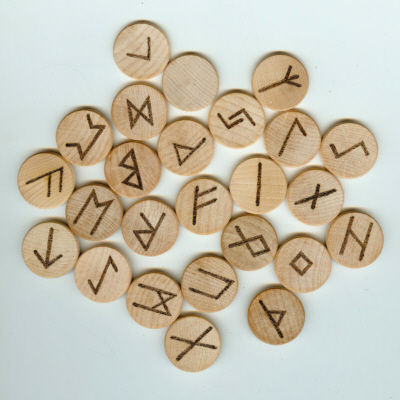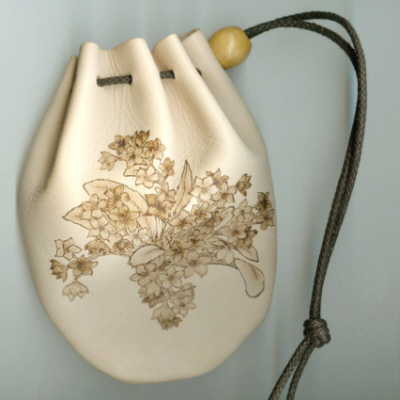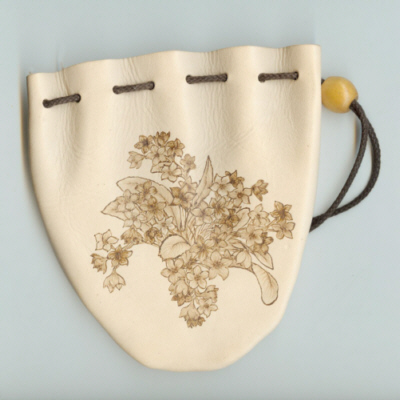 This set of runes, with forget-me-not bag, was made on commission.
Claire says : "Beautiful!"

---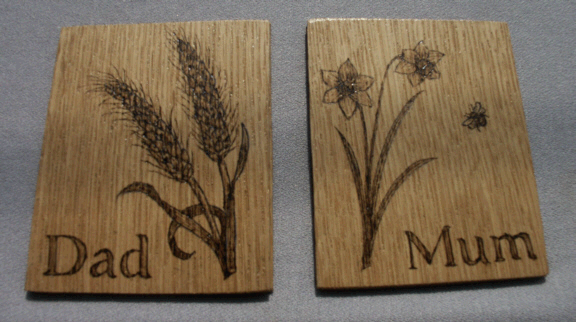 Dad gave me some very thin slips of old oak, which I turned into these Father's and Mother's Day cards. They measure 3½" x 3", and definitely make a change from normal cards!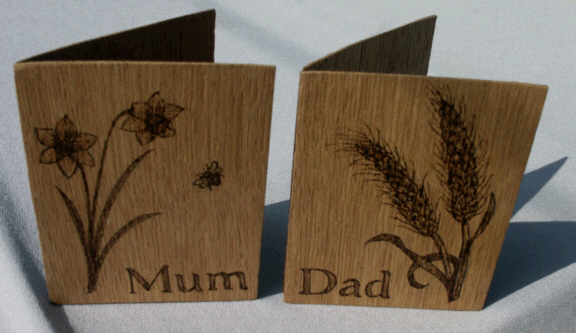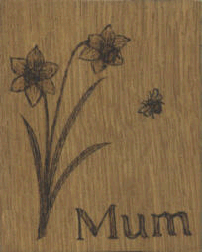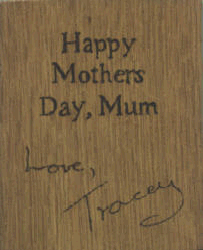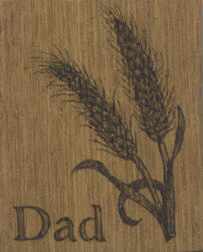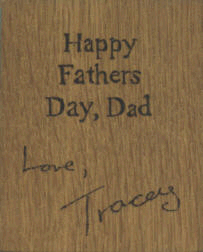 ---


These luckpiece runes were made for Wicca UK, a wiccan discussions group. They all have pentacles on the reverse.

---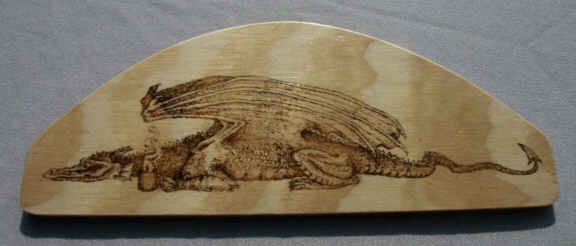 The Dozing Dragon, from a design I found on the Internet. This piece measures about 8½" x 3¼" at the tallest point, and was done on another piece of plywood. I like the way the dragon is dozing peacefully with his mug of tea... or is it coffee?
---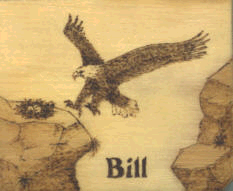 This piece, Bill's Eagle, was made to suit the grain of the plywood, rather than working over it. It measures about 3¼" x 2¾", and was made for my partner, Bill.
---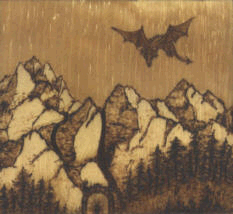 Flushed with the success of this technique, I tried another piece of plywood, measuring about 3¼" x 3", with an interesting grain pattern. This time I worked completely freehand, making a mountain range with a soaring dragon.
---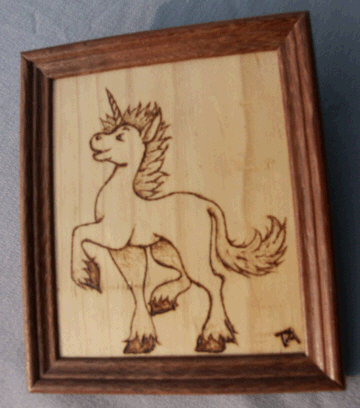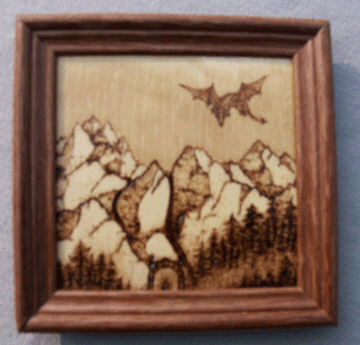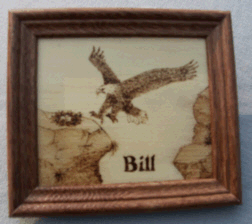 By this time, I'd decided that what the square pictures needed was framing, as the raw edges of plywood aren't all that appealing. As you can see, they look so much nicer when framed.
---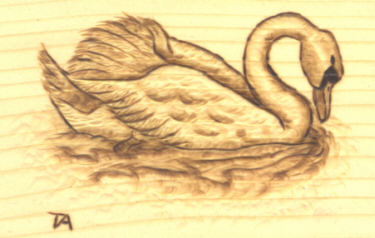 This Swan was made as an experiment with thick wire, done on some kind of softwood I found lying around the garage.

---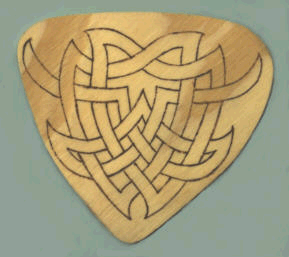 A Celtic Triangle knot of my own design, measuring about 3½" x 3" at it's widest points, done on a piece of Bill's salvaged plywood.
---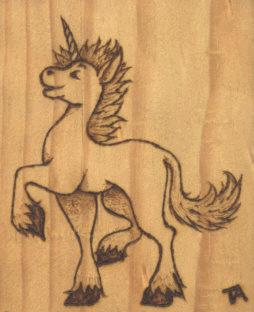 The Unicorn was the very first piece I made. It measures about 3½" x 4½", and is done on a piece of an old drawer side from Dad's garage.
---
If you would like to purchase an item, or commission something from me, please
contact me
with details of your requirements, or take a look at the
Sales page
for some examples.