I have now created quite a few boxes on commission, as they are popular gifts. Boxes can range from tiny pill-boxes up to large treasure chests, can have any design on their tops and sides, and even inscriptions inside or on the base.
They can be lined inside with silk or velvet pads, if desired. The boxes themselves are typically made from Sycamore, so can be oiled, waxed, or varnished.
You can see more recent items
here
on Flickr.
---
Click on an image for technique details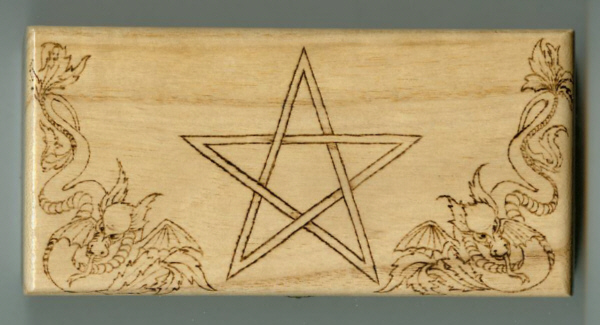 This whitewood box with pentacle and guardian dragons is available for sale.

---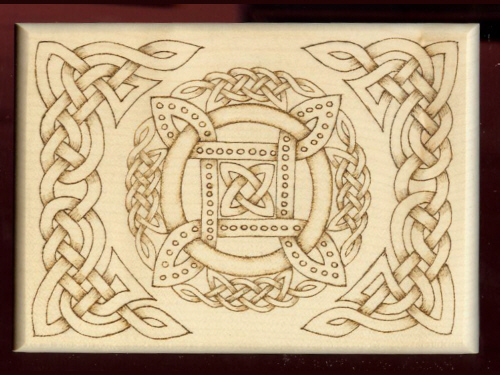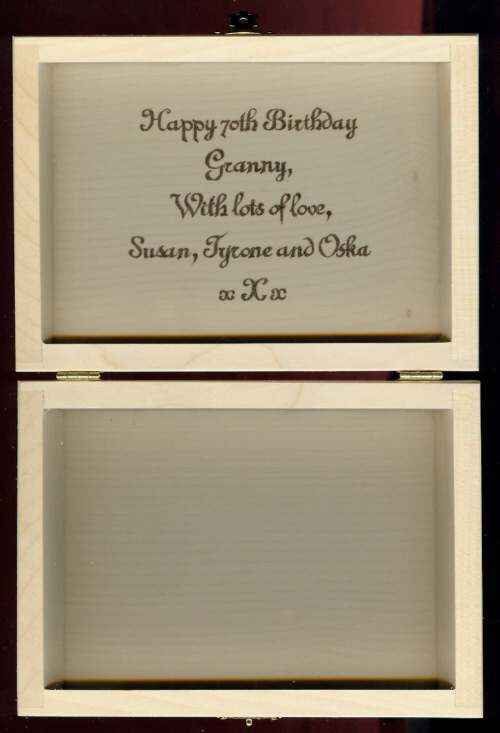 This box, decorated with complex Celtic knotwork, was made on commission as a birthday gift. It measures 7" x 5", and is made of sycamore, finished with wax polish.
Susan says : "Thank you so much, I love it, it's amazing! You are fantastic!! My gran is going to be so happy, I can't thank you enough! I will definitely recommend you to everyone!".

---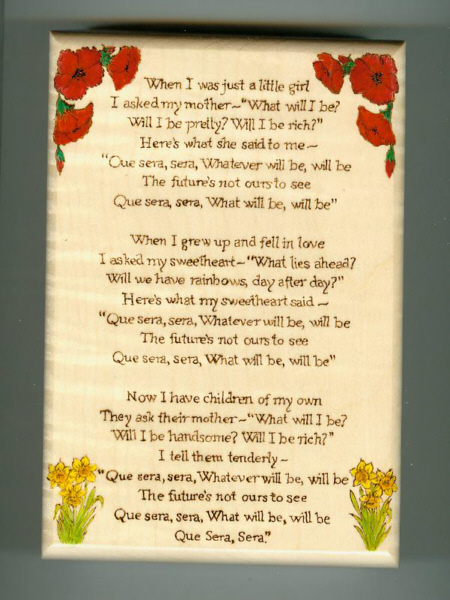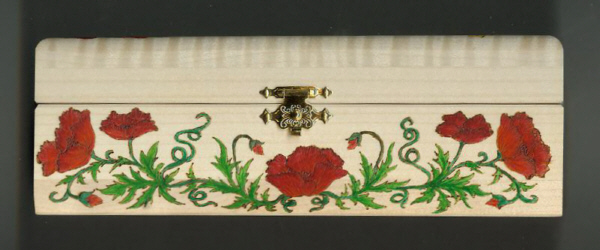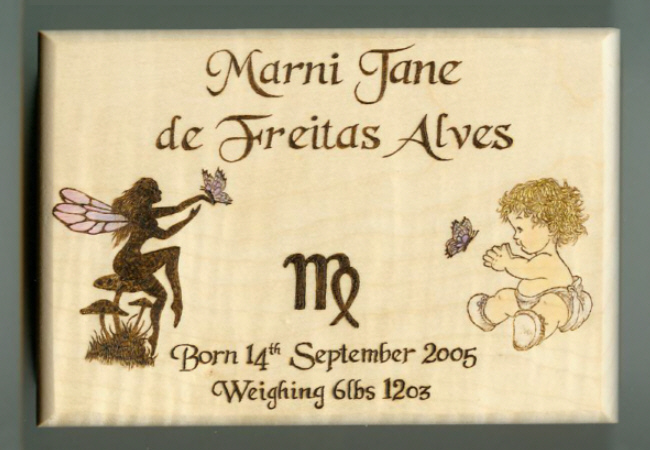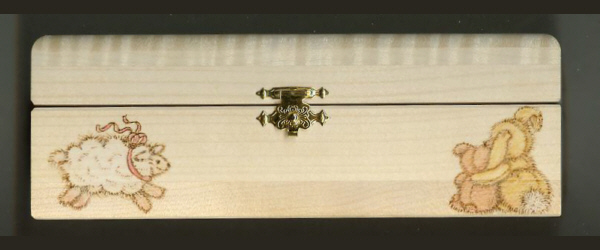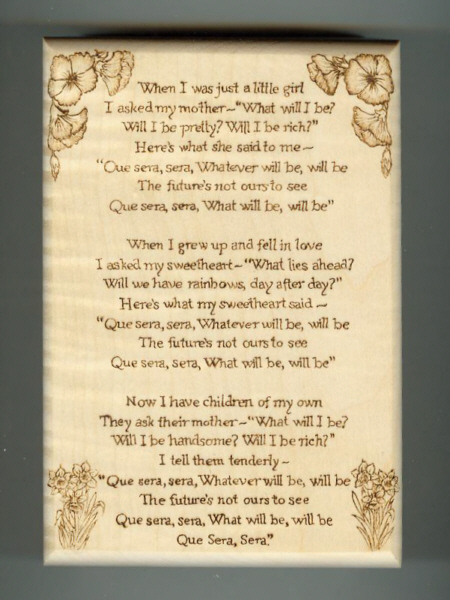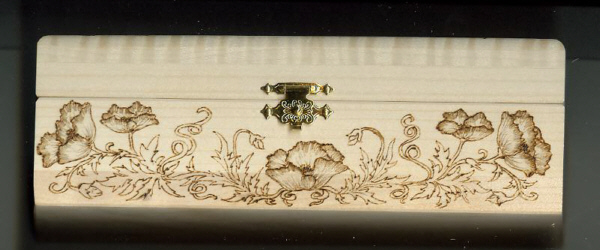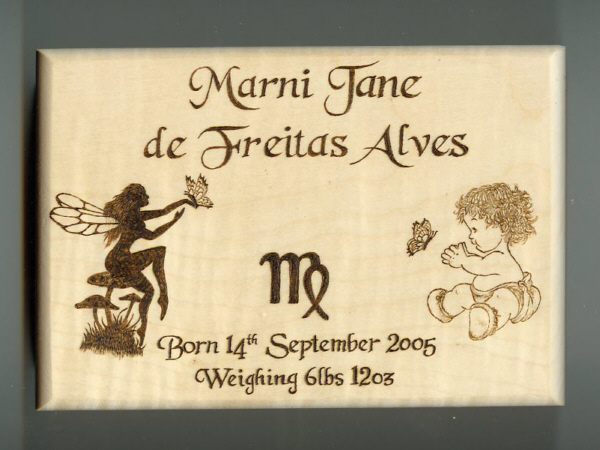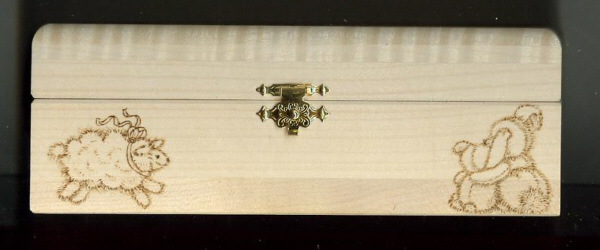 These boxes were made on commission, to be given as Christmas gifts.
Elise says : "They are exactly what I wanted!"

---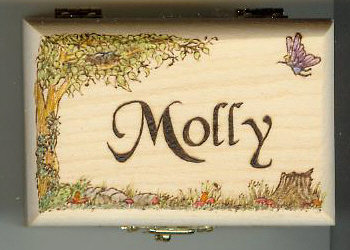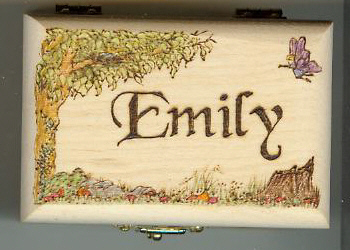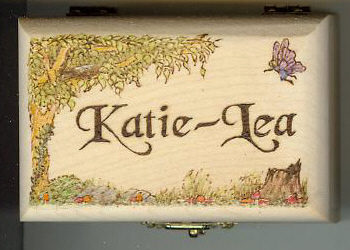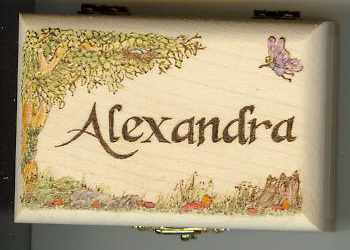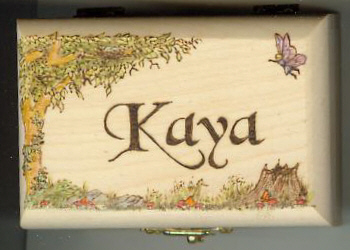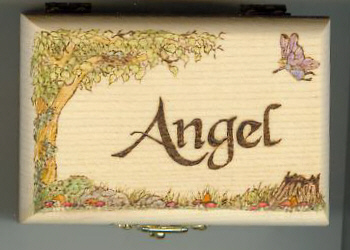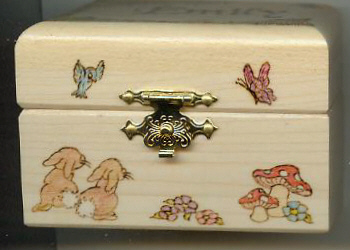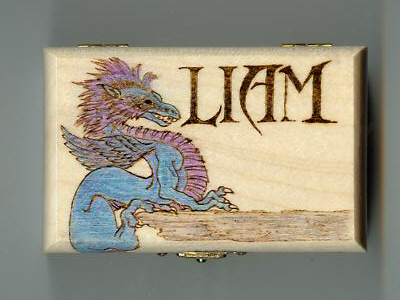 These boxes were made on commission, to be given as Christmas gifts.
Chris says : "Oh darling they have just arrived... and they are stunning! The kids will love them I know."

---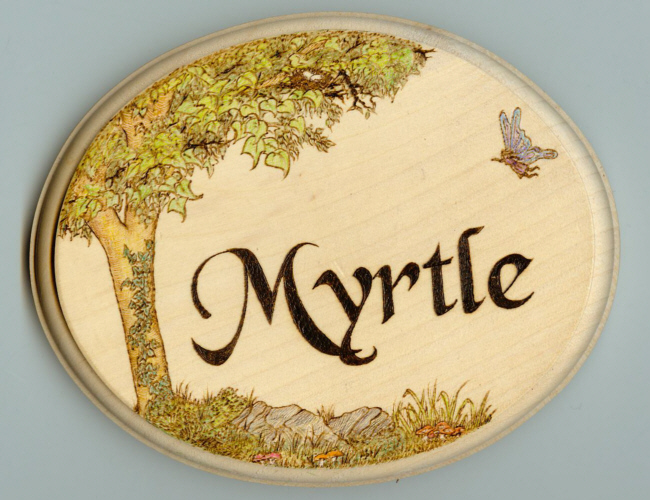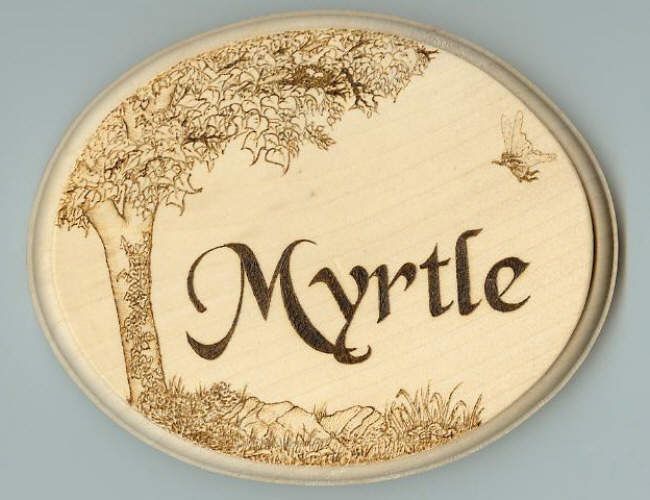 This special box, with standing stones around the edge, was made as a gift for a child's naming ceremony.
Elizabet says : "That is just beautiful!"

---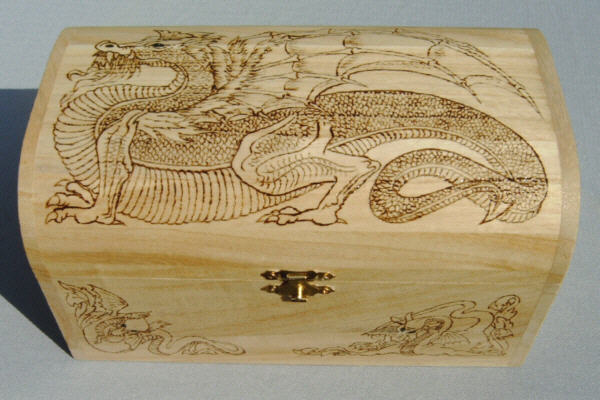 This whitewood box was made to hold my sister's aromatherapy oils, with guardian dragons.

---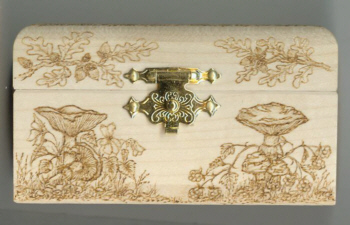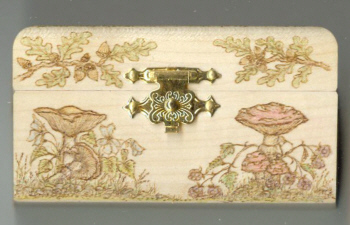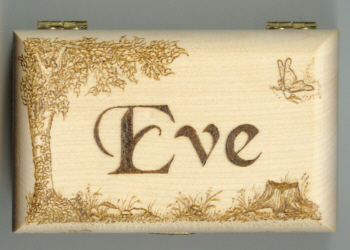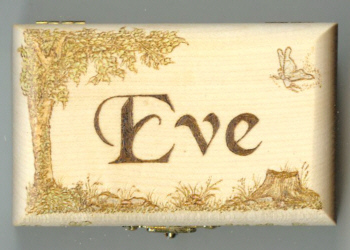 This box, shown here with pyrography alone and when coloured, was ordered as a child's naming gift.
Emma says : "It's great, thank you."

---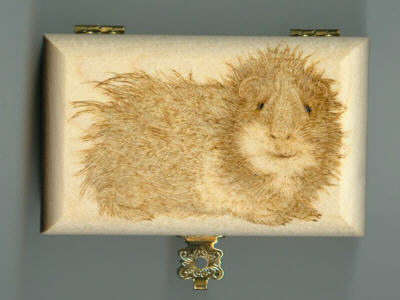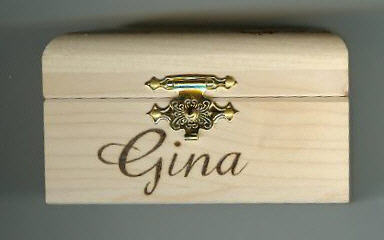 This box was commissioned as a gift, taken from a picture of Gina's guinea-pig Hawthorne.
Debbie says "It looks great to me :) She'll be absolutely delighted with it! Ooooh I can't wait for Gina to see it!"
---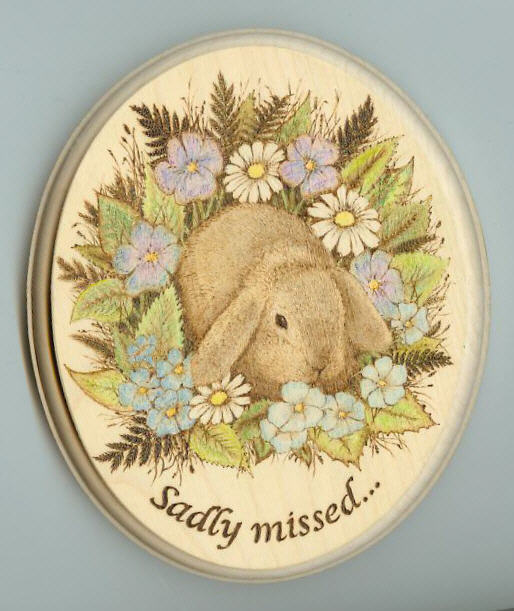 This oval sycamore box was made on commission, to hold the ashes of Simone's beloved pet bunny, Primrose.
Simone says : "I'm so pleased how lovely it looks!!!!! I don't know how to describe how happy I'm with the box!!! It looks so lovely - the colours are really nice!!! Thank you so much for your help!!!! "

---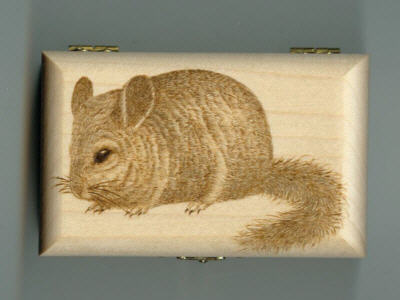 This chinchilla box was made for Lisa at Bunny Creations.
---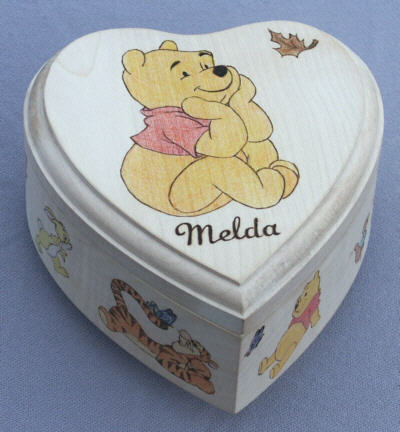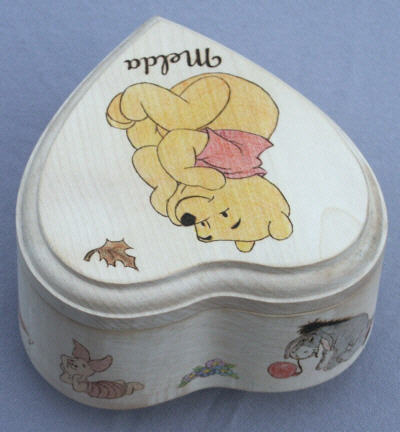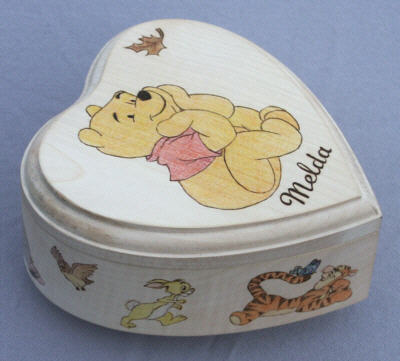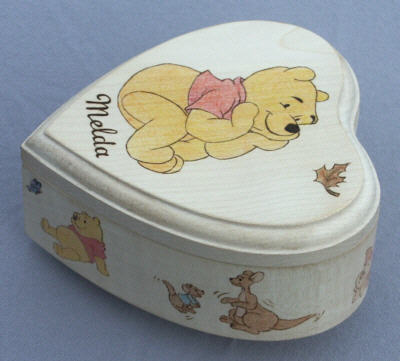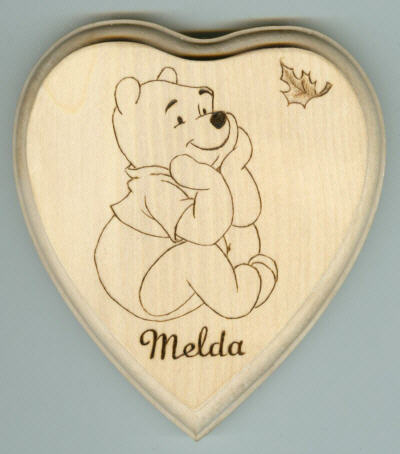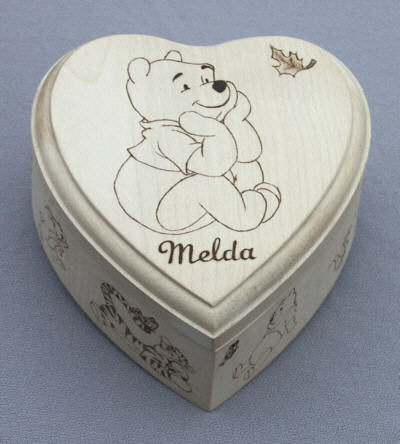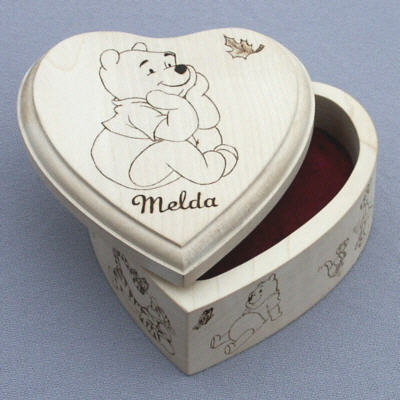 This cartoon bear box was commissioned as a Christmas present, coloured to the commissioner's requirements and finished with protective varnish.
---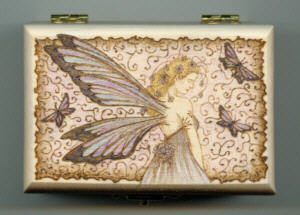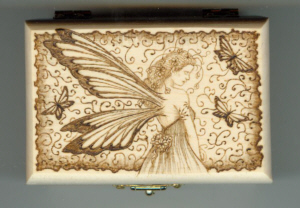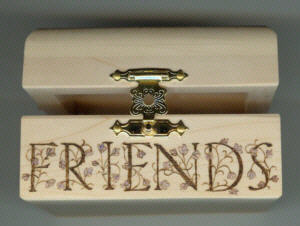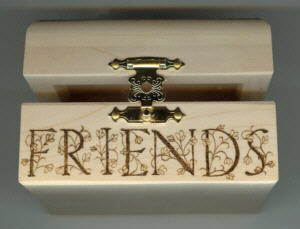 This fairy box was commissioned as a Christmas present.
Lisa says : "IT'S PERFECT! That is so pretty Tracey. Very pleased with it! That design has come out so lovely - my friend will love it!! "
---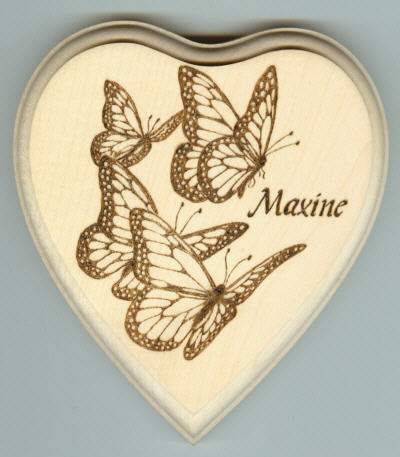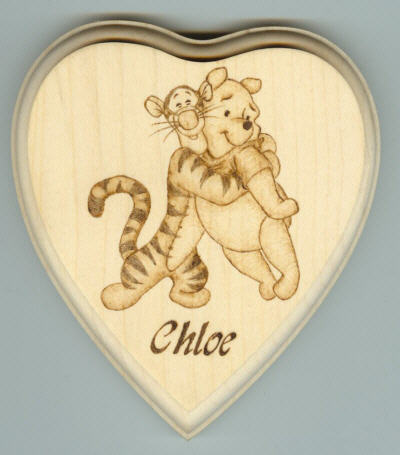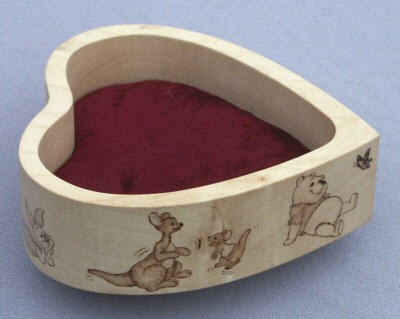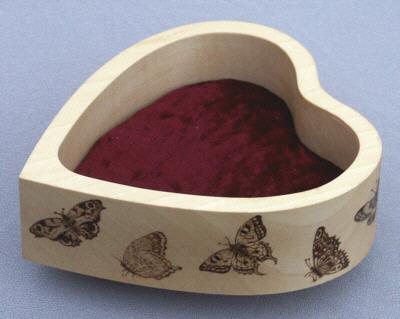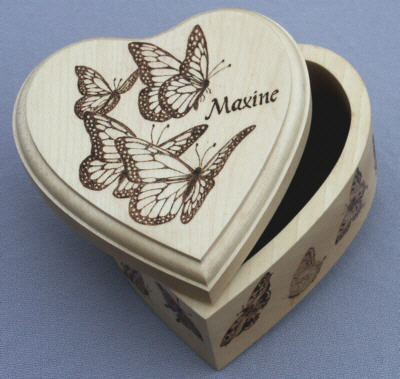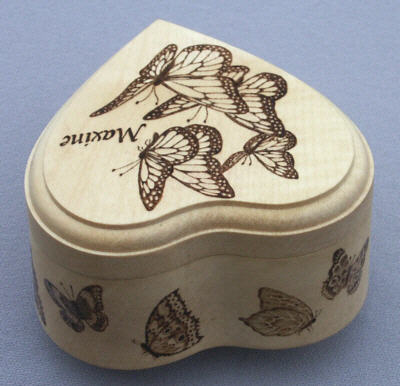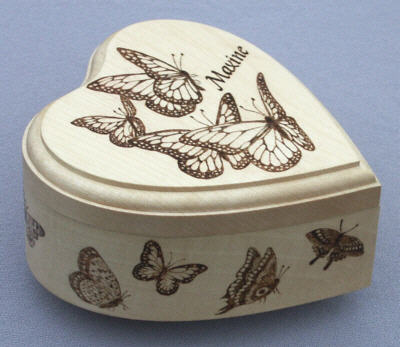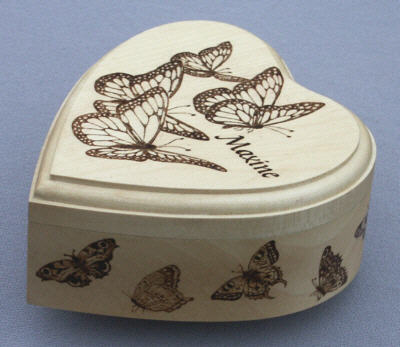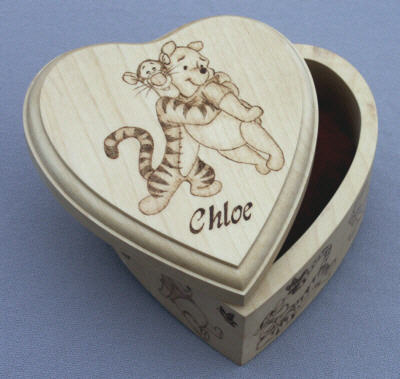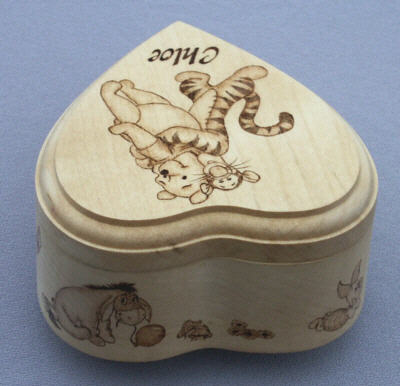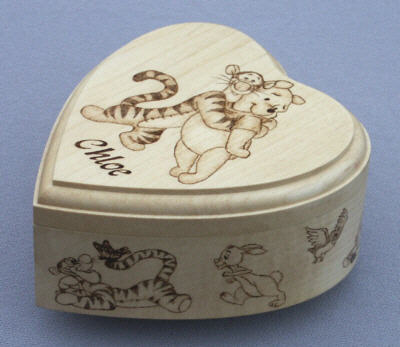 These boxes were commissioned as gifts for Christmas, finished with Danish oil & wax. They are intended as jewellery boxes, and come complete with a velvet lining.
---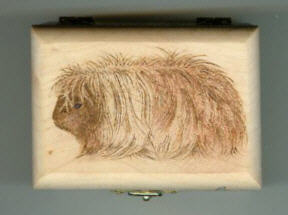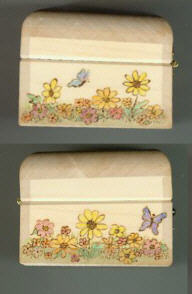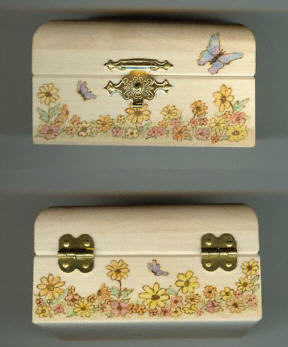 This box, with a guinea-pig picture on the top, and flowers all round, was another commissioned piece.
Sherrilyn, who runs the Dearne Cavy Rescue organisation, says "It's lovely, I am very pleased with it. Well done, you have done a super job."
---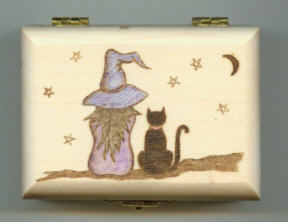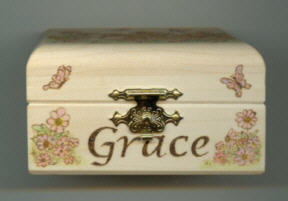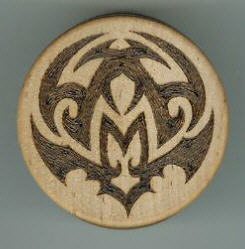 These boxes were commissioned to be given as gifts.
---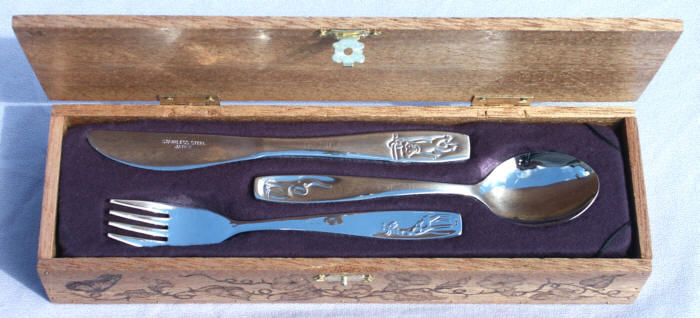 This oak box was made from scratch to hold the cutlery shown, as a gift for my niece, Jessica.
---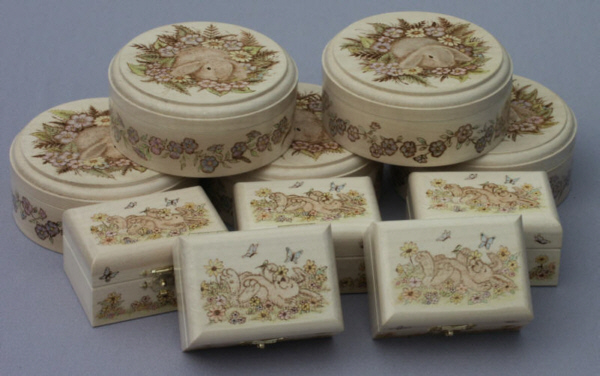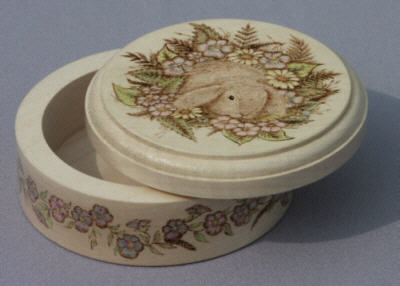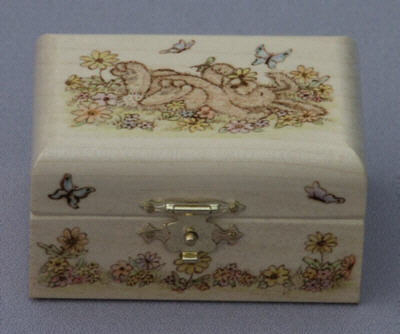 These boxes are available exclusively via Bunny Creations.
---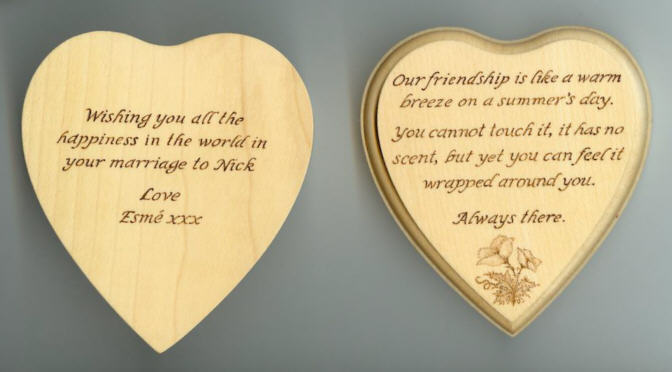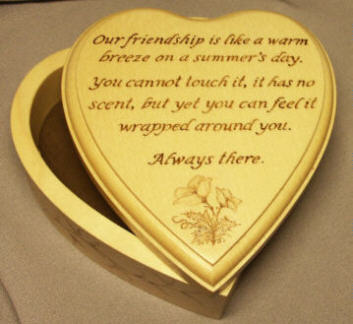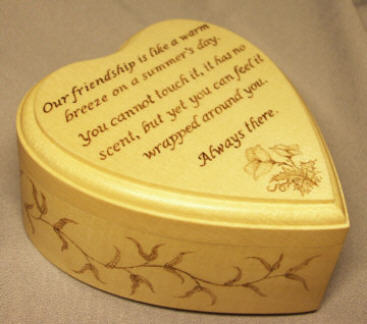 This oil-finished sycamore box was commissioned by an internet contact, as a wedding gift for a friend. Esmé says : "I love the box, it is a real work of art and a beautiful present which my friend can keep as a lasting memory. Thank you so much, Tracey." The brown silky lining is removable.
Finished with Danish oil, the high quality of the box, from Dalescraft again, makes such a simple design look good.
---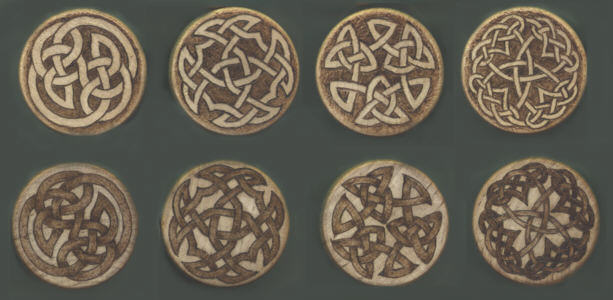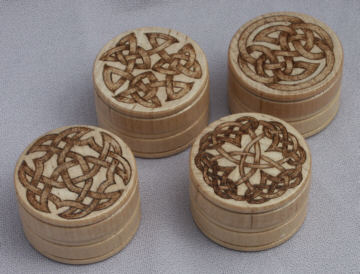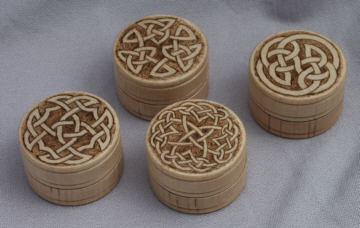 These small round wooden boxes from Dalescraft have matching celtic motifs of my own design on the tops & bottoms. They were given as Christmas gifts, each containing Tolkien's "One Ring"... or a reasonable facsimile thereof, anyway! We're all on our guard for roaming Nazgul...
---
If you would like to purchase an item, or commission something from me, please
contact me
with details of your requirements, or take a look at the
Sales page
for some examples.