I've made quite a few items for animal-lovers, with bunnies, guinea-pigs, rats, tigers, and so on. These make lovely gifts, and can be made up with any animal design.
You can see more recent items
here
on Flickr.
---


This leather bookmark was commissioned as a gift for a bird-watcher.

---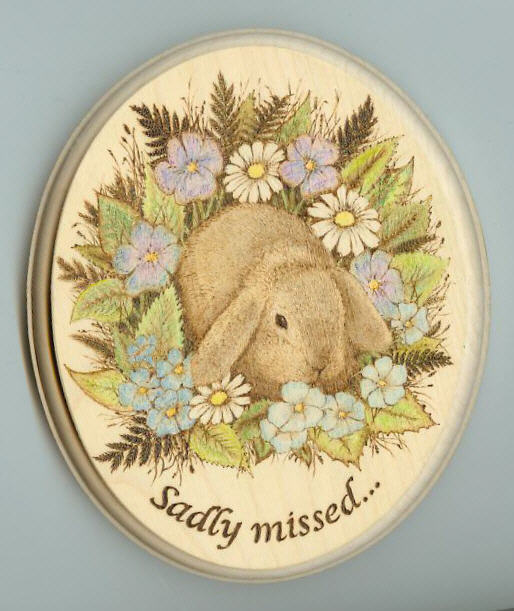 This oval sycamore box was made on commission, to hold the ashes of Simone's beloved pet bunny, Primrose.
Simone says : "I'm so pleased how lovely it looks!!!!! I don't know how to describe how happy I'm with the box!!! It looks so lovely - the colours are really nice!!! Thank you so much for your help!!!! "

---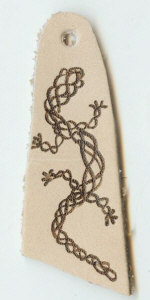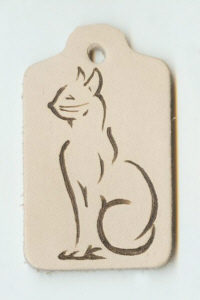 These keyfobs were made for sale at the Pagan Federation Conference, in September 2005.

---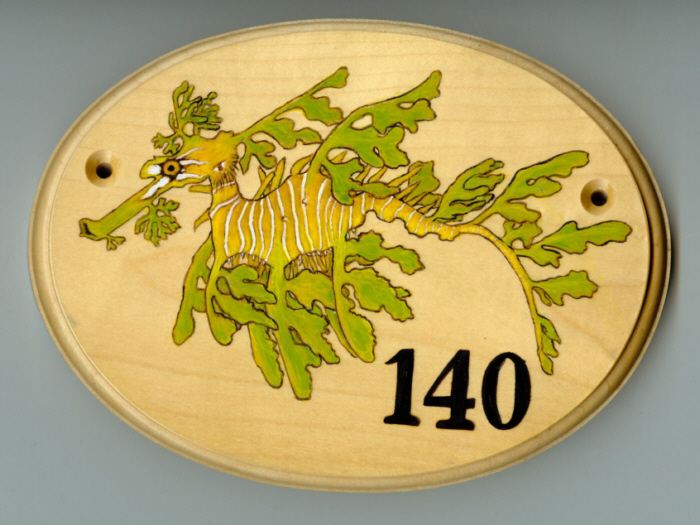 These plaques were originally made with pencil colouring, but sadly they faded in the sun (Note - I no longer do this kind of work for use outdoors), and were returned to me for refurbishment. I have reworked them here in acrylic paints, which I hope will be more UV-resistant.

---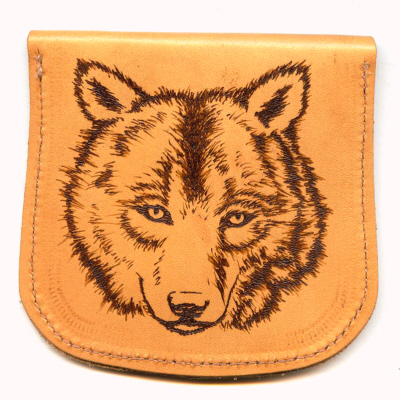 This wolf purse was made as a surprise.

---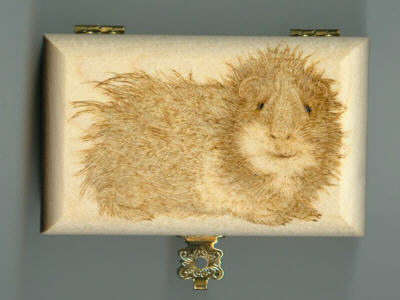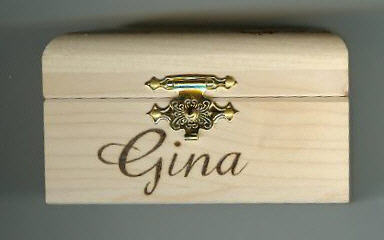 This box was commissioned as a gift, taken from a picture of Gina's guinea-pig Hawthorne.
Debbie says "It looks great to me :) She'll be absolutely delighted with it! Ooooh I can't wait for Gina to see it!"
Gina says : "Debbie had you design a box for me of my guinea pig Hawthorne... I just wanted to thank you for your fantastic work. I had tears in my eyes upon receiving my gift. It is a masterpiece that I shall cherish forever."
---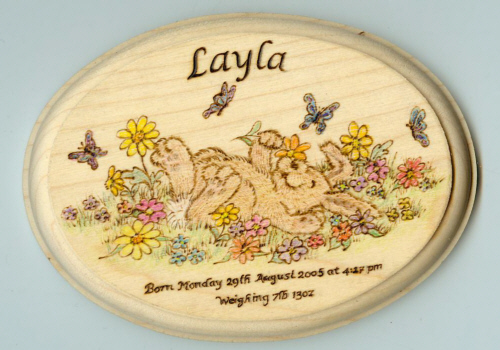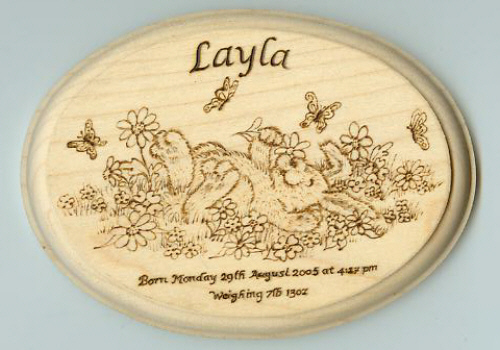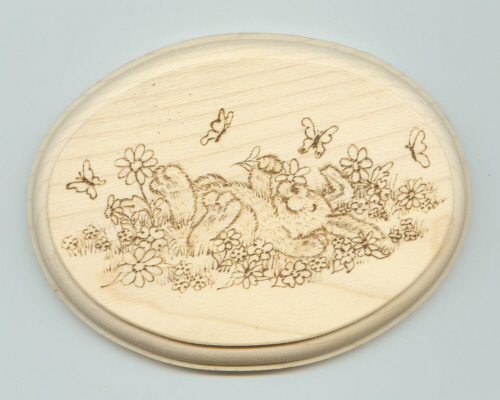 This small baby plaque, show here before and after colouring, was commissioned as a christening gift.
Emma says : ""

---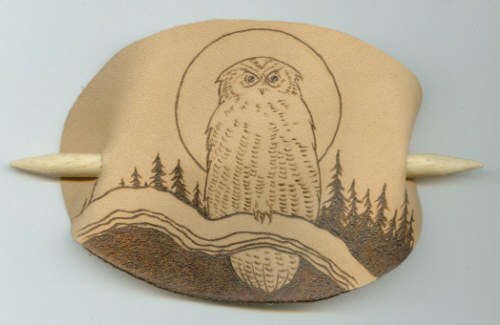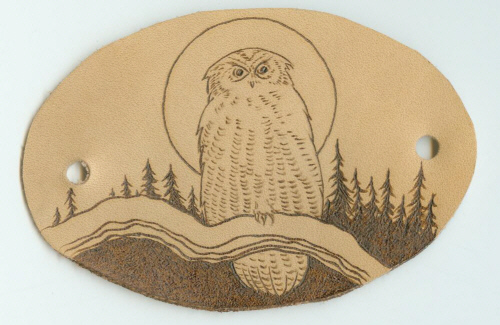 This hairclip was made from scratch as a commission.
Mike says : "Hairgrips are fine! Well done as usual."

---

This leather purse was made on commission for Angie, at Angie's Cavies.
Angie says : "Tracey, I love it. Hope you realise I will have to order some more, you know. LOL! If you hadn't guessed, I LOVE IT! thanx"

---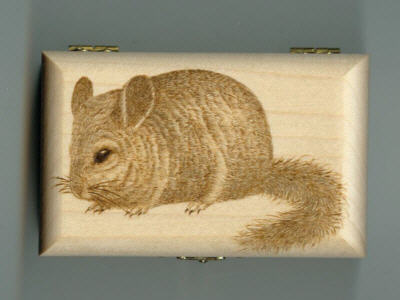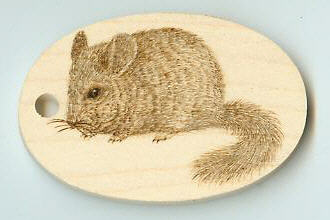 These chinchilla items were made for Lisa at Bunny Creations.
---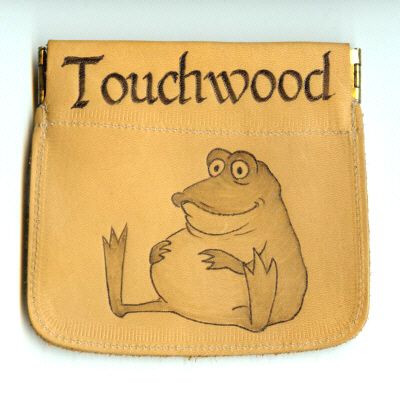 These purses were made for the Catweazle Fan Club, featuring Catweazle's toad familiar, named Touchwood.

---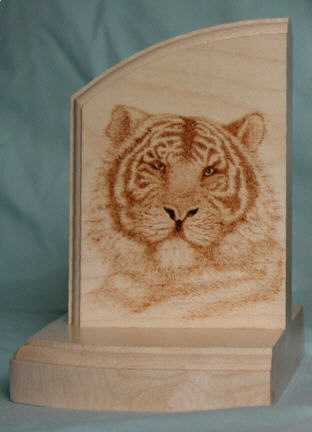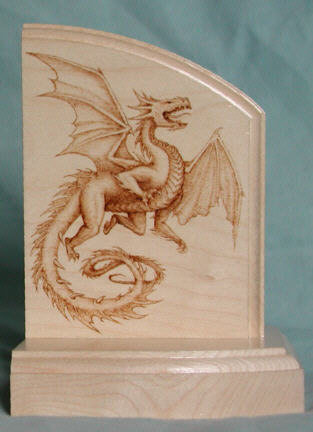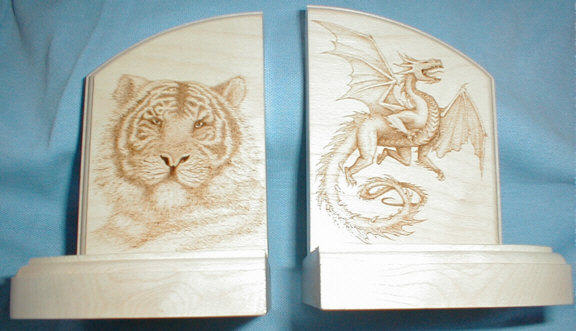 This set of bookends, about 6" tall, were made on commission, as a Christmas gift from a friend to her husband. The bookends themselves are beautiful quality sycamore, purchased from Dalescraft via EBay. The tiger required considerable practice to get right!
---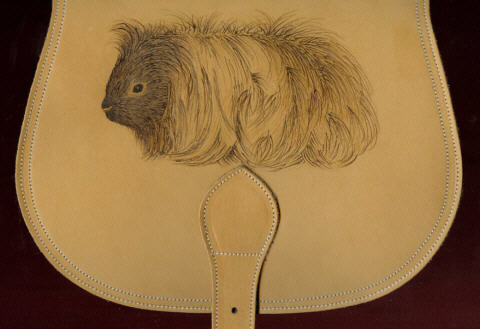 This leather handbag was made for a guinea-pig lover, who runs the Dearne Cavy Rescue organisation.
Sherrilyn says "It's wonderful, very happy with it - it looks really good. "
---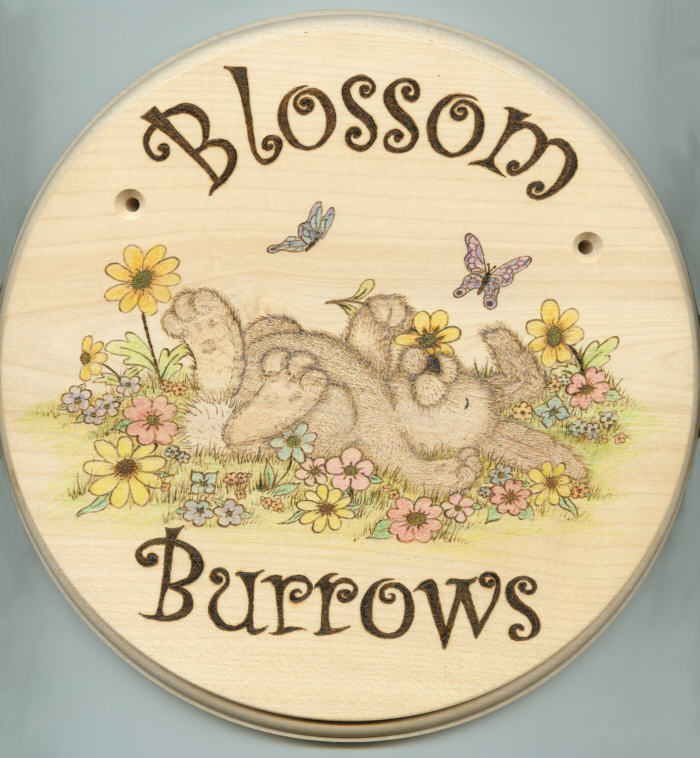 Another commissioned rabbit-hutch nameplate - this time 7" round.

---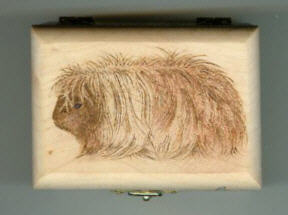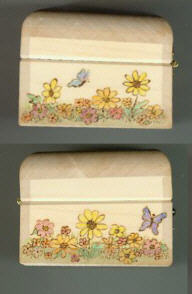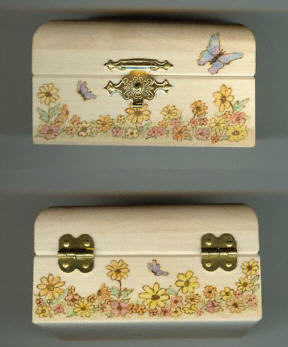 This box, with a guinea-pig picture on the top, and flowers all round, was another commissioned piece.
Sherrilyn, who runs the Dearne Cavy Rescue organisation, says "It's lovely, I am very pleased with it. Well done, you have done a super job."
---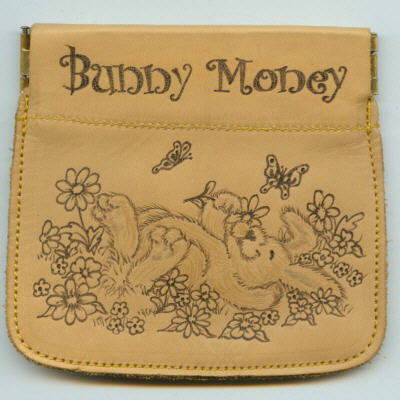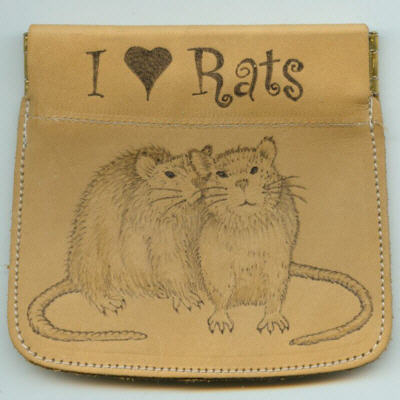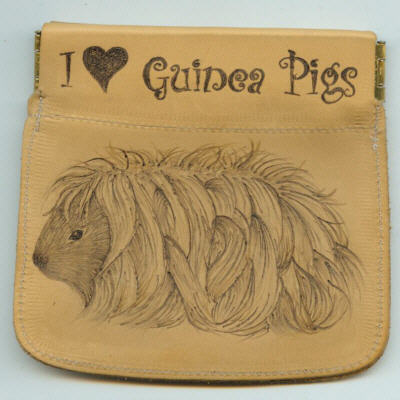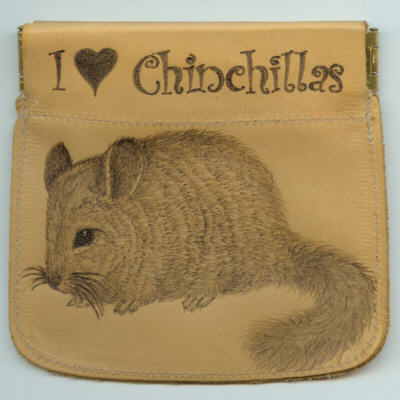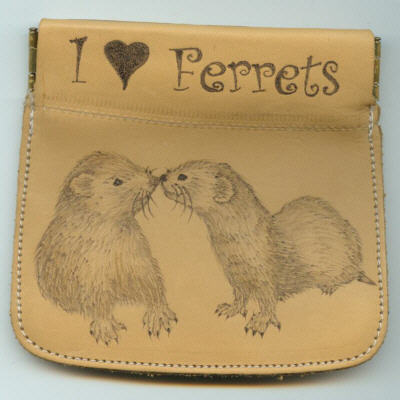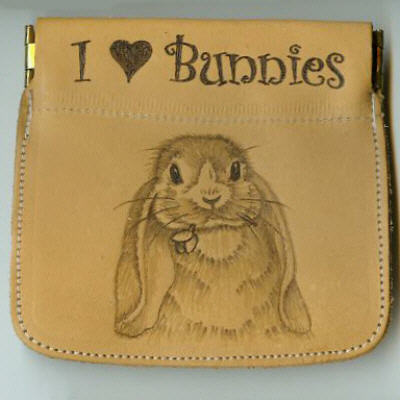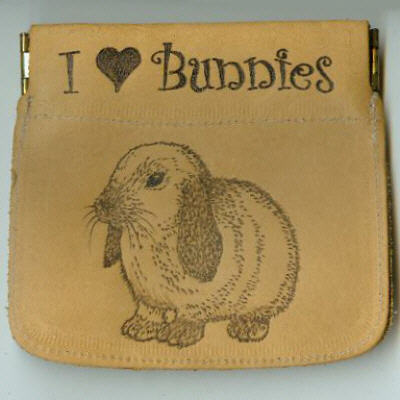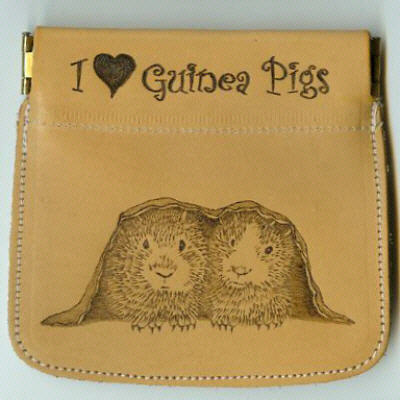 These particular purses were made for Bunny Creations.
---

These boxes were commissioned to be given as gifts.
---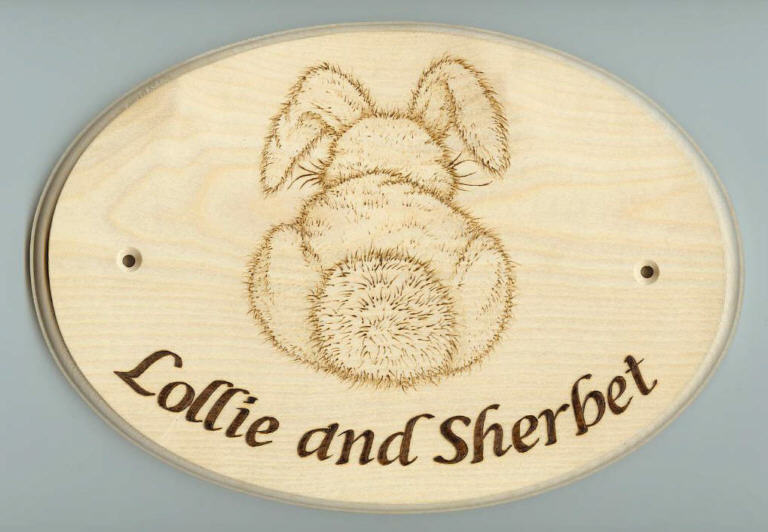 This 7" x 10" plaque was done as a commissioned nameplate for a large rabbit hutch, containing a family of lop-eared bunnies. The original pair of sister bunnies, Lollie and Sherbet, turned out not to be sisters after all, and now have a happy family of cute little babies...
Bill's help was invaluable when drilling this - his expertise with a pillar-drill got the holes really neat and both countersunk exactly the same.
Claire says : "I recieved my plaque yesterday, and I just wanted to let you know that I'm really thrilled with it. You are very talented, and the plaque is going to look fantastic on Lollie and Sherbet's house. You can really see the time and love that's gone into making it - Thanks again for all your hard work, it really paid off!"
---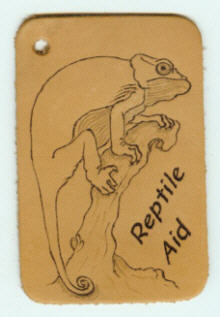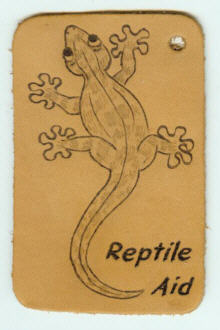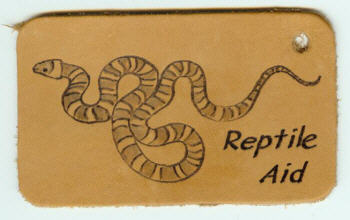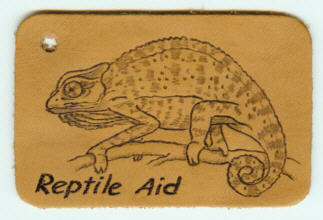 These keyfobs were made for Reptile Aid, a voluntary organisation caring for reptiles.
Craig, the founder, says : "I am very pleased and grateful for your generosity. Thank you very much for wishing our Reptiles well. People forget what animals we help and if they do know they don't care as they are 'not as cute' as a dog or cat."
---


A dolphin keyring, made as a gift.
---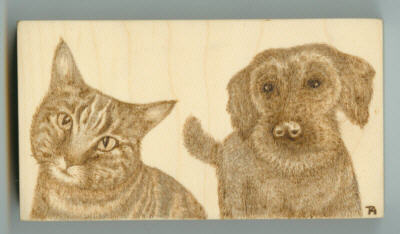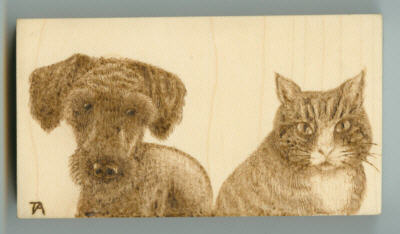 A pen block, decorated on both sides with pet portraits.
---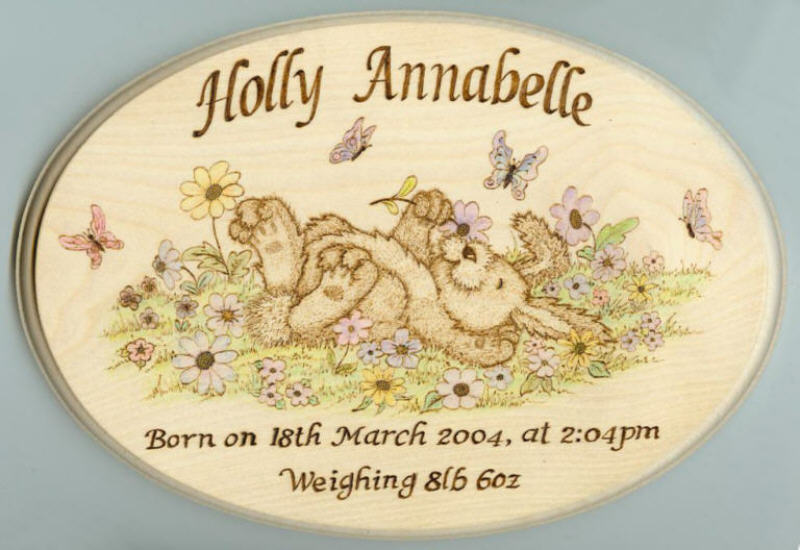 You see this baby's nameplate, 7" x 10", in various stages of construction - shown complete and coloured with artist's pencils, shown detailed but uncoloured, and shown with just the outlines. These plaques come from Dalescraft, and work beautifully as nameplates.
The design was made up in PowerPoint, which is really useful for curving the name around the shape, and for fitting the design in neatly. As you can save as a JPG, this can then be flipped and used as a rub-down template.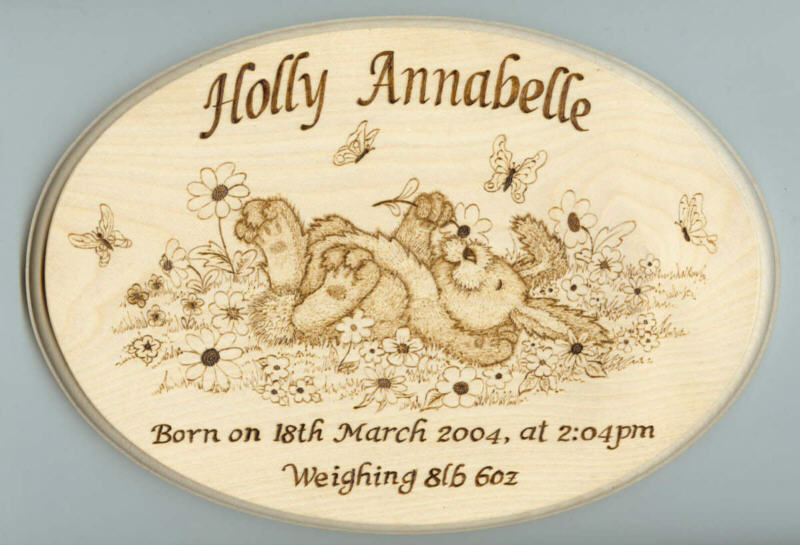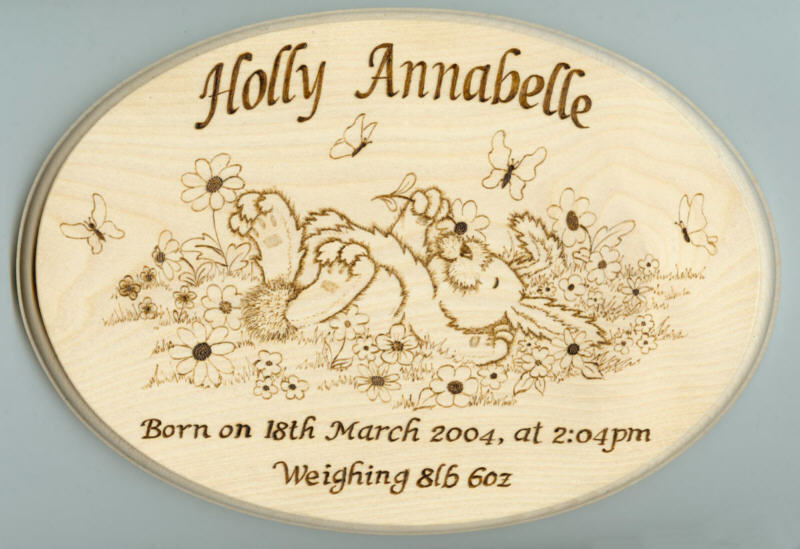 ---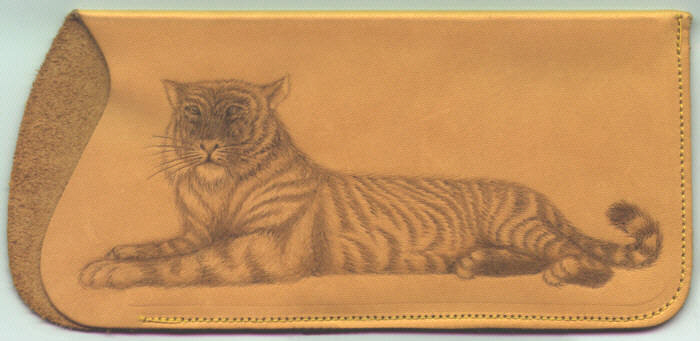 This glasses case was commissioned as a surprise gift for a lady, by her husband, who we did business with for some custom metalworking.
He says "She was so pleased! I had to work hard to convince her to actually use the case - she was afraid to damage such a lovely design."
---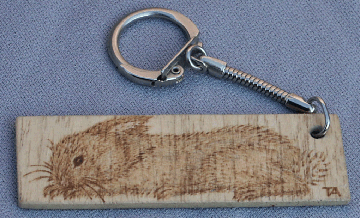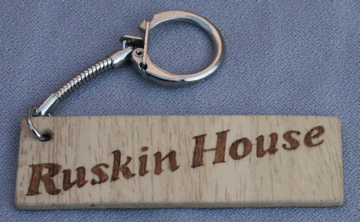 This keyfob was made to go along with my Nanny & Grandad's old house, when it was sold to its' new owners. It measures about 1" x 3", and is done on another piece of craft-shop obeche. I have no clue what obeche is, but it's a reasonable surface for pyrography - it's a bit soft, and so burns very fast, but it's not too bad.
My Grandad kept dozens of rabbits in the back garden of Ruskin House when I was a kid, so a bunny seemed like just the thing...




---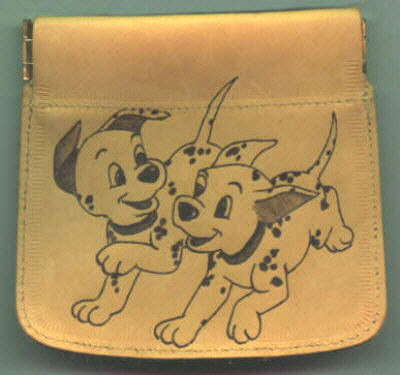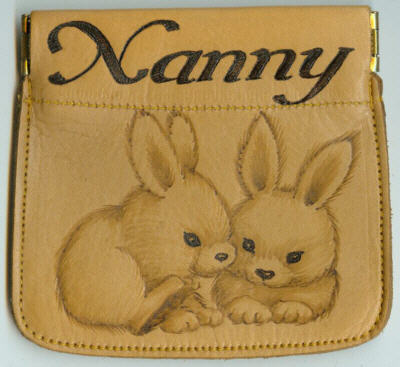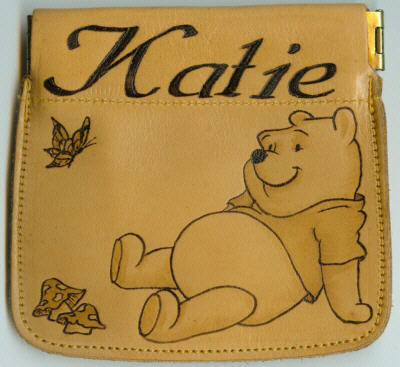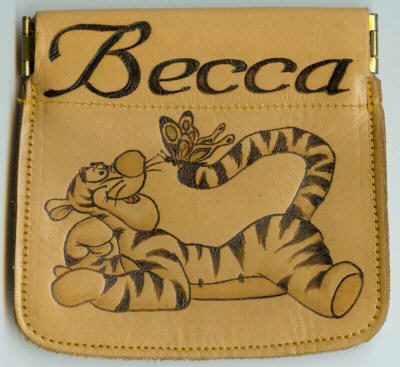 These cute purses were also made on commission, to be given as Christmas gifts.
---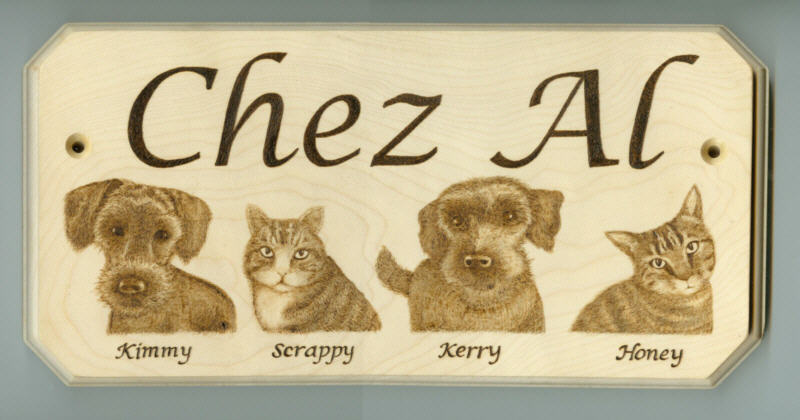 This sign was commissioned to commemorate the recipient's move to a new house. The pictures of his pets were taken from the photographs below, taken on a mobile phone.


---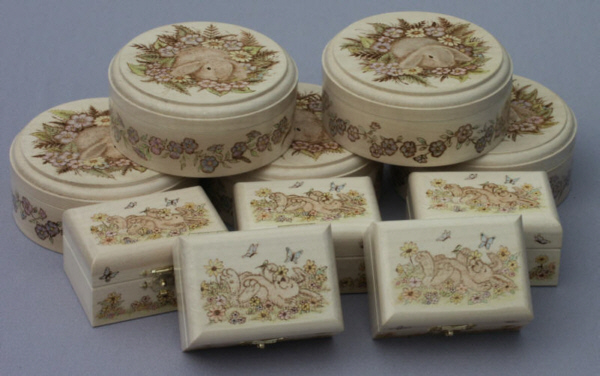 These particular boxes are available exclusively via Bunny Creations.
---
If you would like to commission something from me, please
contact me
with details of your requirements, or take a look at the
Sales page
for some examples.
---